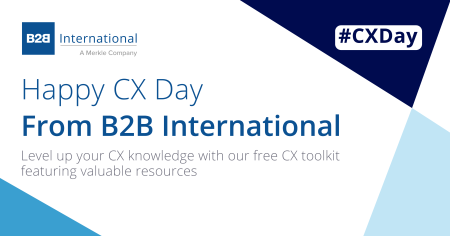 Through our recent research, we have found that customer experience remains the number 1 priority for B2B organizations. We understand how important it is to create customer-centric strategies, and help our own clients bring the voice of their customers into the heart of their business through tailored customer research programs.
As a result of us placing great importance on customer experience, not only internally but for our clients, we wanted to celebrate CX Day by putting together a CX toolkit; a resource hub full of CX blogs, videos, podcasts, frameworks and more, to help inspire you as you plan ahead for 2022…
[Podcast Series] CX Masters
A weekly podcast series featuring our Head of Growth, Nick Hague, and expert guests from the world of CX, designed to provide listeners with the insights they need to create a superior customer experience and in turn increase loyalty and drive greater profitability.
[Article] Customer Experience: Why We All Have A Role To Play
Why it's the responsibility of everyone in an organization, not just the Customer Experience Manager or marketing department, to deliver an excellent CX throughout the entire lifecycle.
[Report] The 2021 B2B Marketing Monitor
A research report exploring the latest trends in B2B marketing and customer experience, looking at the key challenges faced by marketers and strategy decision-makers ahead of 2022, and revealing how best-in-class brands are excelling on customer experience.
[Video] How to Use Kano's Model of Customer Requirements to Understand the Three Levels of Customer Needs
By understanding threshold factors, performance factors and delight factors, you can develop valuable offerings that meet and exceed customer needs and beat the competition in your market.
[Podcast Series] CX Practitioners
Our most recent podcast series featuring CX leaders from B2B organizations around the world discussing how and why they prioritize CX within their business strategies and the results they've achieved.
[Infographic] A 5-Step Framework for Driving Action and Seeing Results from your CX Programs
Despite B2B marketers continuing to list customer experience as their top priority challenge for a number of years, only 1 in 5 organizations are defined as a CX Leader. To address this gap, we've identified a 5-step framework to help B2B marketers drive real improvement from their CX programs.
[Report] Architecting the Ultimate B2B Customer Experience
A robust exploration into today's B2B buyers, enabling us to identify four brand "superpowers" that allow B2B marketers to create the ultimate B2B customer experience.
[Video] CX – More Important Than Ever in Times of Uncertainty
A podcast episode with customer service and CX expert, Shep Hyken. How do brands manage customer experience in times of crisis, and why is it more important than ever to develop a customer-first mindset?
[Article] Customer Satisfaction Research: How to Measure CSAT
An in-depth guide on how to carry out effective customer satisfaction surveys that give you an invaluable measure of customer loyalty.
[Podcast] Expectations of the New B2B Decision Maker
Matt Powell, VP & Executive Director of North America, joins the B2B Insights podcast to discuss the findings from his recent whitepaper on The Generational Differences in B2B Decision-Making. Matt outlines how brands can best engage with millennials to grab their attention and how to optimize the buyer journey to meet the needs of today's B2B buyers.