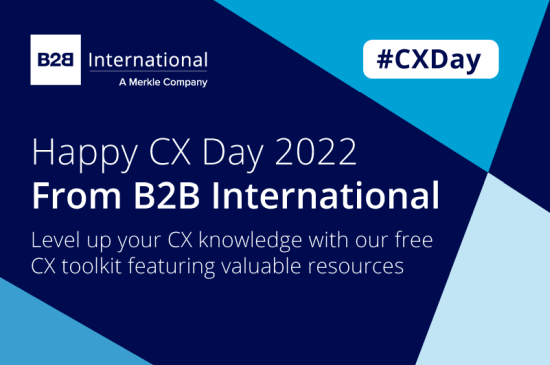 Our latest research showed that customer experience and loyalty is the number 1 priority for B2B organizations, and that isn't set to change in the future.
We understand how important it is to create customer-centric strategies, and help our own clients bring the voice of their customers into the heart of their business through tailored customer research programs.
As a result of us placing great importance on creating powerful B2B experiences, not only internally but for our clients, we wanted to celebrate this year's CX Day by putting together a CX toolkit; a resource hub full of CX blogs, videos, podcasts and more to help inspire you as you plan ahead.
[Report] The New Shape of Superpowered B2B Customer Experiences
Our latest in the Superpowers Series sees us delve into the 6 new CX ingredients which are vital to implement in order to Superpower your CX program. Furthermore, you will learn which 18 ingredients remain of significant importance to build into your strategy.
You will also learn what successful companies are doing to close the gap on delivering the ultimate B2B CX and how you can compete, and why it is as important as ever to deliver personal value add as well as business value add across the B2B buyer journey.
[Blog] The Failings Of B2B Customer Experience
We recently conducted an on the pulse survey of 97 large, global corporates to ensure you have the very latest CX insights at your fingertips. This latest research shows that one in four B2B organizations believe their customers would rate their customer experience five or below out of ten. So, what is going wrong and what could elevate you to a CX leader status?
[Report] Connecting You With Today's B2B Buyer
With an average B2B buyer journey taking over half a year, how can you connect with your buyer effectively, delivering the right message, at the right time, in the moments that matter to them?
Introducing this exclusive research report, sponsored by Meta, which explores how you can remain highly relevant with your audience and ultimately become a winning B2B brand.
[Infographic] Spotlight on the Millennial B2B Decision Maker
Millennials are now the largest segment making decisions in the B2B space. This therefore changes the landscape of the B2B buyer journey, and means organizations are having to adapt their marketing and communications strategy accordingly to connect with them effectively and ultimately win their business.
This infographic walks you through ways in which you can best communicate and influence this generation.
[Case Study] Buyer Journey & Persona Research For Visa
Hear how we informed Visa's go-to-market strategy and communication of new solutions through persona profiling and buyer journey research, providing deep insights into commercial bank decision makers.
[Podcast Episode] The Metaverse – The Future of Creating Meaningful B2B Connections?
Join Nick Hague and his guest Phil Clayton, Client Partner at Meta, on this special episode of the B2B Insights Podcast. They answer the fundamental question: Does the future of relationship building and connecting with B2B buyers lie in the metaverse?
[Podcast Episode] Creating Powerful Consumer Experiences in a B2B World
The B2B world has continued to evolve over the last number of years, with added complications along the way such as lengthier purchase journeys, larger buying groups and an ever-expanding portfolio of products and services.
Join Merkle B2B experts in this podcast as they help listeners depict how to navigate this challenging landscape and how to remain successful in a competitive marketplace.
[Blog] The World of Interconnected B2B Experiences
From employee experience to user experience, from customer experience to brand experience.; the world of interconnected B2B experiences has never been so complex.
Find out how you can deliver the best holistic experience for your B2B brand in this blog.
[Book] B2B Customer Experience: A Practical Guide To Delivering Exceptional CX
Next year sees the second edition of "B2B Customer Experience", written by B2B International's Co-Founders Paul & Nick Hague launching. This book details how readers can to deliver the very best customer experience within the B2B realm, with a focus on the importance of emotion if you want to achieve that "wow" factor to your customers, and the role technology plays in creating superior experiences. It will also feature new research as well as detailing how the B2B world has adapted since the COVID-19 pandemic through digitalization. If you are looking to create the ultimate CX for both clients and prospects alike, this handbook is essential. Watch out for the launch – coming May 2023.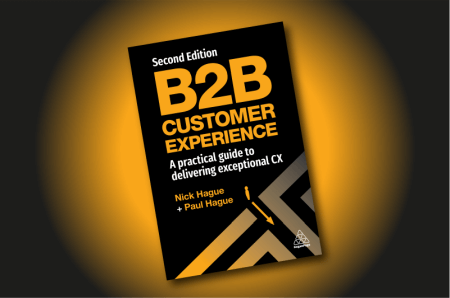 How We Create Ultimate Experiences For Clients
Here at B2B International, we offer services across the entire customer lifecycle to help our clients create the ultimate B2B experience which include (but are not limited to):
Let us support you in creating a meaningful experience for your clients, and ultimately empower you to grow.
Learn more about our full range of research services >