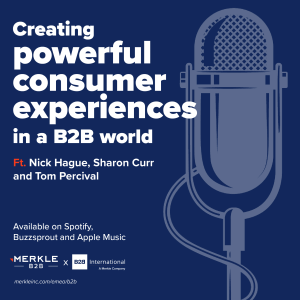 Back in 2020, B2B International joined the Merkle B2B family, becoming a vital part of the world's leading, purpose-built end-to-end B2B agency, bringing together the best B2B capabilities and competencies to architect modern-day customer experiences.
Since then, the B2B world has continued to evolve, with added complications along the way such as lengthier purchase journeys, larger buying groups, and an ever-expanding portfolio of products and services. At Merkle B2B we aim to uncomplicate this world; creating meaningful experiences for B2B organizations, at the moments that matter.
In this latest Merkle Connected Podcast episode, our very own Nick Hague, Head of Growth, and Tom Percival, Managing Director of London joins Sharon Curr, Brand Experience Strategy Director at Merkle B2B as they help our listeners depict how to navigate this challenging B2B world and ultimately win in this competitive marketplace.
Topics of discussion include:
Understanding today's B2B buyer journeys
How to power your business' brand externally and internally
The importance of employer branding
The very latest B2B research findings
Practical examples of how B2B organizations have optimized their B2B marketing
Persona development & customer journey mapping
Top tips for activating changes within your organization
Top tips for creating a brand which stands out from the crowd…
… plus lots more! Listen to the podcast below.