B2B Customer Experience is the essential guide to delivering an efficient business-to-business customer experience (CX). The book focuses exclusively on bespoke B2B journey plans and practical B2B strategies and concentrates on six key elements of customer experience: commitment, fulfilment, seamlessness, responsiveness, proactivity and evolution.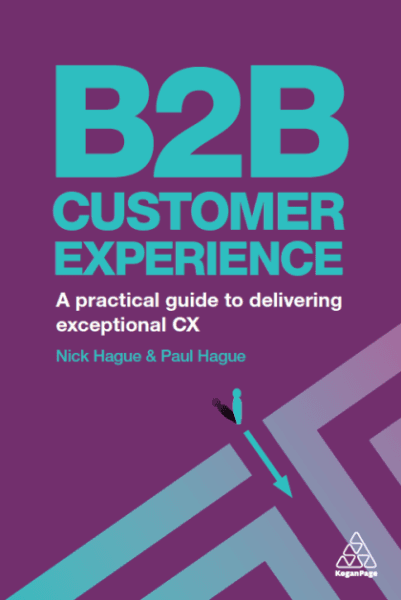 About the book
It provides clear advice on how to plan, map, structure, implement and control an effective customer experience. Translating the key CX principles from leading B2C organizations, such as Zappos, Nordstrom and John Lewis, the authors outline techniques for applying successful B2B customer experiences, how to build on the strengths of a business and how to engage sales teams with the customer experience programme.
Want to learn more? Please visit the dedicated website or head over to the book's LinkedIn page where Nick shares regular updates.
To check out the reviews and buy your very own copy, head over to Amazon.
Watch the promotional video below:
Endorsements
"Nick and Paul Hague have done an extraordinary job of capturing every aspect of how to create and maintain world-class B2B customer service for any industry or organization from healthcare to manufacturing to airlines and even to help entrepreneurs figure out how to compete with the big guys. I consider myself an expert on customer service after my 42 years with Hilton Hotels, Marriott International and my final role of running Walt Disney World Operations for ten years, but I can honestly say I learned some new ways to think about going from average to good, to great to greater with customer service. Keep this book on your desk as your go to [re]source for creating magic for your customers."

Lee Cockerell, Former Executive Vice President, Walt Disney World®Resort, Creating Disney Magic podcast host and author of four best-selling books on leadership, management and customer service.
"Nick and Paul Hague have put together one of the best books looking at the whole of customer experience I have seen to date. Tying together employee metrics and a collection of customer metrics such as Customer Effort Score, customer satisfaction, Net Value Score, and Net Promoter Score®, they have specific suggestions for how to think about, measure, and benchmark the customer experience within a business context. This is an excellent view of how to think about and move forward with CX in your business."

Roy Atkinson – Renowned CX Expert and Principal with Clifton Butterfield, LLC.
"One thing that all businesses and consumers have in common, is that they are all on the receiving end of customer experiences on a daily basis. Whilst consumer facing organisations have been consciously aware of this fact for many years now, organisations that predominantly provide products and services to other businesses, rather than consumers directly, have been much slower to catch on. Defining, delivering and managing the customer experience in a B2B environment is becoming ever more critical in a business world that continues to be challenged and disrupted from many fronts.

Nick and Paul Hague not only recognise this, they have pulled together a piece of work that will help any organisation understand how to turn the words 'customer experience' into a tangible reality – a reality that leads to improved customer perception AND financial performance. The authors brilliantly provide the building blocks that turn the science of customer experience into something you will be able to practically adopt and deploy. B2B Customer Experience is a hugely valuable read for anyone who has an aspiration to achieve sustainable growth – and who wouldn't want that?!"

Ian Golding, CCXP, Global Customer Experience Specialist and author of Customer What
"Nick and Paul Hague do a brilliant job of tackling a topic that many have written off as impossible – how to deliver a great B2B customer experience. If you're in a B2B business and have customers that you want to delight, this book is a must-read. The Hagues masterfully take the reader through each of the foundational elements that are critical to designing and delivering a great customer experience in an easy-to-understand approach that is supported by customer stories and case studies, making it a practical guide for your successful B2B customer experience transformation."

Annette Franz, CCXP, Founder and CEO, CX JOURNEY Inc.
"Too many of the books that are written about customer experience are dominated by insights and stories from B2C companies and markets. Therefore, it's refreshing to find a book that has been written with B2B companies and markets in mind. This is a really useful guide that will help B2B executives understand and apply the fundamental elements of what it takes to deliver a great customer experience."

Adrian Swinscoe, advisor and best-selling author of How to Wow: 68 Effortless Ways to Make Every Customer Experience Amazing
"While much has been written about customer experience in the consumer space, the business-to-business sector is typically neglected. The focus on B2B is what makes this book a compelling read. Nick and Paul Hagues' vast experience has been detailed in five easily-digestible sections that holds the reader's hand from 'Why Bother?' through developing strategies and implementation of CX. The case studies where clients share their experiences in their own words help bring the authors' concepts to life."

Shep Hyken, customer service and experience expert and New York Times bestselling author of The Amazement Revolution
"There are more B2B companies than B2C companies in the world. Every B2B company needs to be an experience-led business. This book will help you become one."

Blake Morgan, Customer Experience Futurist and Author of More Is More
"Become a customer journey addict. Learn how to do it with practical guidance from Nick and Paul Hague, the experts that know it all but still get excited for every project."

Antoine Philippe, Head of Marketing at Etex
"An essential guide to Customer Experience, one of the biggest trends shaping the future of business. It's an intelligent, practical and wise collection of advice from leading sources, experts and thinkers supported by real company experiences and field data."

Gordon Hay, Operations Director, Brenntag
"On the surface, delivering service excellence may seem easy. When you deep dive, delivering a world-class customer experience isn't easy at all. This well researched, well written and compelling book gives the reader the insights needed and the framework required to implement a customer experience strategy that will deliver real benefit to both the business and its clients."

Donna Whitbrook, Corporate Associate, FIRST IMPRESSIONS TRAINING LIMITED
"A clearly written, relevant book that goes beyond the theory and offers practical examples. As a contributor, it was great to read that we are all still on the journey: no-one is 'done' yet, which is comforting to know we're all in a similar situation."

Carol Sheppard, Customer Experience Manager at Molson Coors
Published by Kogan Page