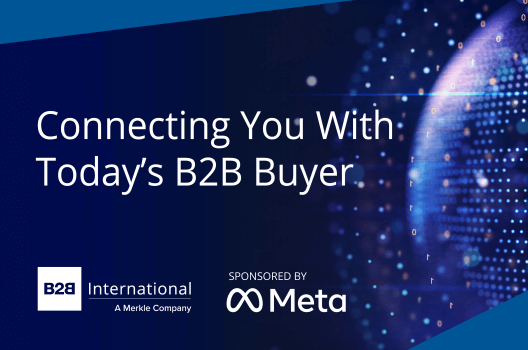 The B2B landscape has changed forever. The recent global pandemic has accelerated digitalization, and there is no going back. Furthermore, there is now a more accepted notion that the lines between B2B and B2C marketing are becoming increasingly blurred; we are after all still talking to human beings.
So, how can you connect with today's B2B buyer, and ultimately become a winning B2B brand?
Our recent global survey of over 3,500 decision makers set out to understand why certain brands are chosen, and what B2B organizations are doing to be successful in this ever-increasing noisy marketplace.
With the average B2B buyer journey taking over half a year, it is vital that organizations remain relevant, with the right message at the right time and in the moments that matter to them. Are the days of conferences and industry events obsolete? Must we always communicate with millennial decision makers via online channels? This brand new research report, sponsored by Meta, has all the answers.
Key takeaways include:
The importance and impact of social media on today's B2B buyer journey
The role ESG and brand purpose play in becoming a successful B2B brand
The generational differences in communication preferences
The importance of personalization within the marketing mix
The winning formula for communicating with today's B2B buyer…
… plus lots more.
Download the report now
More content like this: