Many brands in business-to-business markets grow 'like Topsy' – in any and every way without direction. This is a major problem because, if a brand isn't shown a course, it finds its own position in customers' minds – probably far from the one desired.
Steer your brand to success
Far too many companies have product labels which they think are brands. However, a brand is something people ask for by name. A brand stands for something – something that has been engineered as a perception – not something that has simply arisen without direction.
In other words, a brand needs a strategy and, in developing one, it is worth asking these four important questions:
Will you have a monolithic brand (a single brand name under which you have sub brands) or separate independent brands each requiring their own brand strategy?
How do your brands fit together under the umbrella brand of your company name?
What is it that makes your products (or services) so special that they deserve to be a brand?
How many brands can you afford to have given that each brand will require nurturing and feeding with a marketing resource?
Our solution
Your brand has a vital role within your company's marketing strategy. It is a powerful means of helping a potential customer make a decision to use your product or service. By steering your brand and giving it positive attributes that are attractive to your target audience, they will choose it to the exclusion of other products or services.
Your brand has to compete against others within the market. That means we must understand what people are looking for and how they are being satisfied by brands already available to them. We therefore use our strategy research to 'map the market' to understand people's needs and the extent to which the different brands are currently satisfying them.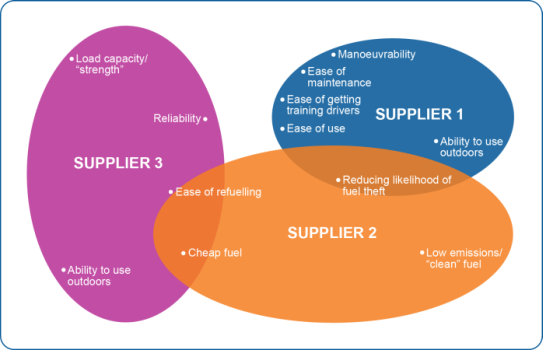 What is involved?
Brand strategy research should always begin within the brand owner to define the objectives for the product or service – and there needs to be a commitment to nourish and develop the brand with an adequate marketing resource.
Once we understand your objectives and expectations, we can see if they are being met within the marketplace. We do this through depth interviews and focus groups and, if we do not require qualitative insights, we can obtain measurements through quantitative surveys using telephone interviews and panel research.
Case study: Creating a coherent brand strategy
Business challenge
A client called to say they had made a major acquisition – a company with its own portfolio of brands. The challenge was integrating these into one coherent brand strategy.
What we did
We opted for depth interviews with the customers from the two companies. Our aim was to find out what would be lost if a move was made from one brand to another and, if such a move was advisable, how it could be executed with the minimum amount of disruption.
Our brand strategy research concluded that the acquired brand was stronger than any of the brands in the acquirer's portfolio. Strong evidence and much diplomacy was needed to persuade our client to move forward with a brand strategy around the newly acquired company brands. Supported by research and strong argumentation, we are pleased to say that our client's business has moved from strength to strength.