How to measure brand health
The role of a brand in developing a loyal and profitable customer base and providing a strong differentiation from competitors, has never been more important. The ease with which companies can now communicate globally, multiplies the number of effective competitors in many sectors. If brands fail to distinguish themselves in this explosion of competition, they will be seen as interchangeable, leaving price as the key discriminating factor. There may be a 'brand' name, but without a clear, relevant and differentiated brand positioning, this is simply a label to write on the box.
The brands owned by the Forbes 500 organisations are estimated to account for 30% of their combined balance sheets. Furthermore, the top 100 brands in the Millward Brown Brandz list of the Most Valuable Brands show an increase in value of 14% in the past year alone, and 126% over the 10 years of the study.
Brands clearly have a value, and yet, when we ask business people how important the brand is to them in their business decisions, they routinely attach an insignificant weight of around 5% to its importance. Business buyers claim to be rational in their decisions and driven by price, availability or reliability of a product or service.
We think otherwise. Statistical analysis of the impact on satisfaction and advocacy of more emotional and intangible attributes, as well as observed behaviour tell us that emotions play a very important role. Buyers of business products and services switch suppliers relatively infrequently and sometimes stay loyal for years – despite there being cheaper and possibly better products available to them. The reputation of a company (its brand by any other name) is so important that it could account for 50% not 5% of the buying decision.
The risk manager who returns to the account manager who puts his mind at rest, the tradesman who enjoys a free coffee or newspaper at the builders' merchant, or the IT manager who insists on a single printer manufacturer are certainly influenced by the brand, as well as the functional features of the products they choose.
The crux of the issue here is 'what is the brand?' and 'what makes it strong'?
There are three main components to brand health tracking and these we describe as "the brand health wheel".
Awareness and usage – if potential customers have no awareness of your brand, they cannot consider it. Measuring levels of awareness and use is a critical component of brand health.
Brand positioning – your brand has to stand for something and that something should be what customers and potential customers want.
Brand delivery – the brand must live up to its promise.
These three important components of brand health can be further broken down into other factors which can be measured. These measurements lead to an overall brand health score. This is illustrated in the diagram.
The Brand Health Wheel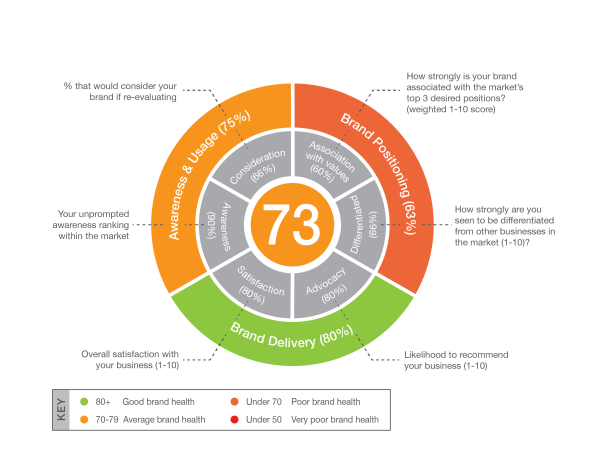 Awareness and usage
For a brand to do its job, it stands to reason that people must know about it. But that's not enough – brand owners must consider their target audiences in the widest sense. These include but are not limited to:
Specifiers
Influencers
Decision makers
Approvers
Users
Order placers
B2b purchase decisions, in particular, require rather more justification to other stakeholders, than a personal consumer decision. It is far less likely that a high value purchase, or ongoing contract will be awarded to a business that a key decision maker has never heard of.
More directly related to the business bottom line, is the percentage of the target audience who use a brand. Strong brand penetration, as well as a high share of wallet within a category, are key to building and maintaining a profitable customer base. Retaining, and building spend with a given customer is always less costly than spreading sales thinly amongst an ever changing audience.
Brand positioning
The awareness that a brand has amongst its target audiences is clearly critically important. If somebody doesn't know of a brand, it will have no position in their mind and quite probably will not be included in a consideration set. IBM, HSBC and Samsung have lost billions of dollars off the value of their brands in the past year, according to Millward Brown Brandz. They had slipped back not in awareness but in the positioning within customers minds.
The positioning of a brand is inextricably linked to brand benefits, perceptions and associations such as:
Relevant to the needs of the individual and their business
Clear and distinct from the associations with competitor brands
Credible and consistent across all touchpoints and experiences of the brand
Relevance to a potential customer is at its most basic 'do you supply the product type I'm looking for?' It's no good being a leading brand in cameras, if no-one knows you make office printers. A brand that has a level of awareness linked to a positioning that is relevant to the target audience is one step closer to being considered in a b2b purchase decision. At its most compelling, a relevant brand so strongly connects with its audience, their lives and needs, that nothing else will do. Ask a Manchester United fan to fly with an airline whose brand is on the front of arch rival Manchester City's shirts and watch them squirm!
Distinctiveness is the key to differentiation and can take many forms. A product can be distinguished by its functional features or benefits, whilst a brand needs to feel different. Only then can there be loyalty beyond reason. A strong brand gives reassurance and trust that the company's money has been well spent, and that you, the decision maker, are a smart and competent businessman. Beyond this, a brand may offer emotional benefits of inspiration, fun or belonging.
With an understanding of what the 'ideal' brand in a market will represent to its target audience, a brand must then be inextricably and uniquely connected to that positioning. Which brings me to the final part of the Brand Health Wheel…
Delivery of the Brand Promise
I use the word 'delivery' rather than 'communication' because a brand's beauty is in the eye of the beholder. This is not about a business's advertising messages, or even its marketing output in a wider sense. A brand's position in the hearts and minds of its b2b target audience is a product of all messages and impressions received from all sources.
Though I am discussing business decision making, it is as human beings that we gather and process experiences to create our view of a brand. If delivery of the brand promise comes down to one word, it is 'consistency'.
Consistency means that your brand's positioning has the chance to transmit loud and clear through the noise of business life to mean something, rather than nothing, to your b2b audience
Consistency of message, customer knowledge and experience lends credibility and ownership of your brand positioning
Consistency means that every single experience of a brand should fit together as part of the same entity,

from the first time a brand name passes your eyes sponsoring a local golf event
through advertising, and every kind of marketing communication, including a brand's visual identity
the way your phone call or email enquiry is answered when you get in touch
the enquiry, proposal and business development process
the service design and set up phase
the quality and attributes of the product and service itself (though this may in rational terms differ little from the competition)
your experience as a customer and the way you are dealt with by all people from all departments and functions of the business
the values by which a business is seen to operate
and, most difficult of all to manage; comments, reviews and news stories from customers, competitors or press – our multi-media world makes this an ever growing and changing challenge
Early in this article I suggested that the greater role played by personal relationships in many b2b business models may reduce the importance of the brand. However, when a brand is consistently delivered across all touchpoints, these relationships are powerful tools in embodying the values of the brand itself, and strengthening emotional relationships with the brand. Will you really turn down a proposal from an account manager you trust and get on with, if there is no rational difference from a competitive offering?
In short, the brand is something that your business IS and not what it wants, or claims to be. Building a strong brand is the biggest single determinant of long term business success. As b2b marketers join their b2c colleagues in building strong and powerful brands that are relevant, unique and consistent across every touchpoint, who wants to be the 'product' left behind?