A brand is an asset. We all accept this. It has long been acknowledged in consumer markets. Yet in business to business markets, brands are frequently treated irreverently.
It is very easy for product brands to multiply at an incredible rate with no thought for the consequences. In fact, many so-called brands are simply labels by which to order products.
At B2B International, we believe good brand management is one of the most powerful tools in business to business marketing. Understanding the strength of your brand, and giving it good direction, can take it further, delivering a high return on investment for a relatively low cost.
Our solution
Our starting point is always to understand the facts. What does your brand stand for? What are its values? How do these compare with competing brands?
We tackle B2B branding research with a well-defined structure. We assess the value of your brand by measuring its performance at every stage in the brand funnel, including one of the most important components – awareness. If people do not know about your brand, how can they consider it? Measuring 'interest' is equally crucial, allowing us to determine whether or not your brand is being included in the 'consideration set.'
Video: The importance of branding research
We also measure penetration – the proportion of your target market using your brand. And we measure advocacy too – the proportion likely to recommend your brand.
An excellent measure of brand efficiency is the proportion likely to recommend your brand out of the total number aware of it.

Brand Maps – visualising brand associations
Correspondence analysis is used in branding research to analyse the relationship between brands and various brand characteristics (product and service attributes) through a brand map.
By plotting multiple brands on a brand map, it is possible to identify which characteristics define brands (i.e. characteristics more strongly associated with one brand), which brands share a similar profile in a market, and which characteristics are unclaimed by brands.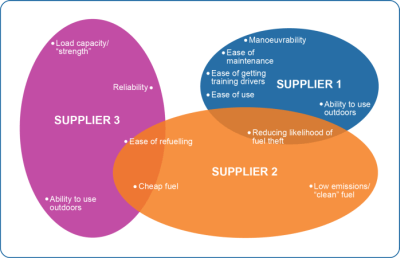 Brand maps are also used to tell a story about one particular brand and how that brand's position differs according to different customer profiles. For example, the various brand characteristics can be plotted according to the degree of association across company sizes, countries, business units, etc.
As the name suggests, word clouds are a visually attractive and impactful way of presenting open-ended responses in the form of a group of words. These could be brand perceptions, first impressions on an idea, awareness of different products or respondent profiling data – essentially anything where there is a vast array of one or two word responses.
Word clouds identify and highlight the key themes mentioned in a question by presenting the most common and repetitive themes as the largest words. Findings can be grouped, for example all the positive associations can be indicated in green, or attributes can be colour-coded for easer interpretation, such as product, brand and channel associations represented by different colours.
Word clouds are often presented with the coded counts of the open-enders in order to asses quantitatively the differences across key breaks.

Wordle showing the associations respondents had with a brand. Positive associations are in green; negative associations in red. The most common associations are innovative and quality.
Knowledge is everything
Intelligent brand strategy is only possible when you know your own and your competitors' weaknesses and strengths. Knowing the strengths and weaknesses of your brand at different points in the brand funnel means precious direct marketing resources can be directed where they are most needed, while competing brands can be attacked where they are known to be weak.
What is involved?
Our brand research usually begins with depth interviews or focus groups to get inside the minds of decision makers to understand what your brands mean to them. We then turn to quantitative research using telephone interviews or panel respondents to establish measures along the brand funnel. In most cases, we would then measure brand performance just as we would in a customer satisfaction survey, finding out how people rate your brand on all the attributes that have been shown to be important.
[Webinar] How To Become The Leading Brand In Your Market
The following webinar was recorded during our Go Beyond Webinar Series in June 2015. The webinar discusses 10 tips on how to drive your brand to the number 1 position – and how to stay there.
Key topics covered include the brand funnel, differentiation, customer centricity, and brand performance.
Case study: Realigning a brand portfolio
Business challenge
A client of ours had more than 2,000 different brands, most of them old, atrophied and no longer in use. They needed advice on how best to streamline them.
What we did
Because these brands existed in every country of the world – some of which were stoutly defended by local marketers – we had quite a challenge on our hands. Initial research indicated that these brands were simply product labels and customers neither knew them nor used them. Eight family brands were selected to replace and simplify the previous portfolio. Subsequent research throughout the world showed how these brands would be positioned against competitor brands so that they could be aligned and strengthened appropriately.
In addition to successfully giving direction to the brand portfolio, the brand research was designed as a tracking study so that the strength of the realigned brands could be measured year on year.