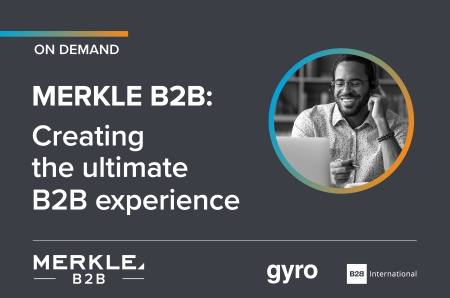 Watch our latest webinar recording, where we sat down with other Merkle B2B experts to discuss how you and your business can create the ultimate B2B Experience through four key "superpowers".
Our expert panel provides a synopsis of our brand new whitepaper on the ultimate B2B experience, discussing it's key themes in detail, as well as a deep dive into the findings from our survey of over 3,000 B2B decision makers – which informed the basis of the whitepaper. You'll have the opportunity to delve into the key ingredients that drive the ultimate B2B customer experience.
The story behind the research; why is now an important time to focus on B2B customer experience?

A deep dive into the research headlines

Learn the basic requirements that must be fulfilled for businesses to survive

Discover how satisfied B2B decision makers are with supplier experiences

Learn how well B2B brands deliver against customer needs

Differences across audiences and business sizes (I.E. millennials vs gen z vs baby boomers & SMEs vs Enterprise)

The solutions that create the ultimate B2B experience
Watch the recording
Register for the upcoming industry series
Throughout February our research experts will dig deeper into the expectations of B2B buyers across four key industries: Technology, Professional Services, Manufacturing, and Finance. Each webinar will look at the customer journey and uncover ways for marketers to add business and personal value to their customers' experiences.
Technology: Tuesday, Feb 09 at 16:00 GMT / 11:00 ESTProfessional Services: Wednesday, Feb 10 at 16:00 GMT / 11:00 ESTManufacturing: Tuesday, Feb 16 at 16:00 GMT / 11:00 ESTFinancial Services: Wednesday, Feb 17 at 16:00 GMT / 11:00 EST