The last few years have seen an appreciable increase in the attention paid to the discipline of customer experience – However, much of this focus has been in b2c markets. Unfortunately, the same cannot yet be claimed consistently for business-to-business firms: B2B customer experience performance still lags other markets and can often struggle for attention against myriad other corporate priorities. In this white paper, we examine the drivers of b2b customer experience success, based on our analysis and research of hundreds of top b2b brands.
The business value of taking b2b customer experience seriously
High satisfaction scores do not equate to high loyalty. A customer could be highly satisfied with a company's products and services, but that doesn't mean they are also loyal. A competitor could lure them away with a more attractive customer value proposition. Conversely, a customer may not be satisfied with a company's offering but could display loyalty simply due to the barriers of inertia or the difficulties in switching brands.
Integral to both satisfaction and loyalty is the customer experience. We have entered the age of the experience economy where customers expect more than ever before. Brands are at battle to outperform on experience such as making the customer journey easier and delivering faster. The more powerful brands connect more on an emotional level with their customers by invoking feelings such as pride and accomplishment, thus challenging the value paradigm in that customers are often seeking more than functional and rational benefits.
A positive customer experience encourages customers to spend more. By way of example, Amazon – a leader in experience innovation with the likes of Amazon Prime and Amazon Dash – enjoys an industry-leading position on its Net Promoter Score (NPS), and attributes more than one third of its revenue to cross-selling.
However, many companies fail in delivering an excellent customer experience as customers are four times more likely to leave a service interaction disloyal than loyal. Poor customer experience drives brand switching and the majority of customers who suffer a bad customer experience spread negative word of mouth. Research by McKinsey showed that improving a customer experience from average to exceptional (where the customer is "wowed" in some way) can lead to a 30 to 50 percent increase in KPIs such as likelihood to renew or to purchase another product.
How customer-centric are b2b brands?
According to research by B2B International, only 14% of large b2b companies are truly customer centric: That is to say, where the customer experience is deeply ingrained in the company culture. This indicates that b2b organizations have significant work to do to become more customer-focused, but it also highlights an opportunity for b2b firms to differentiate their brands and improve profitability by delivering a superior customer experience.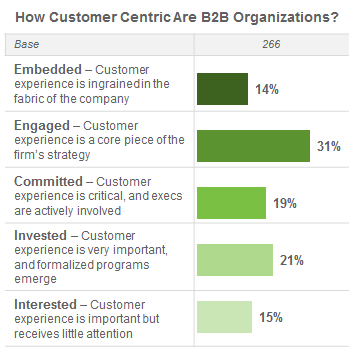 More positively, 31% of b2b firms are engaged with customer centricity in that the customer experience is a core component of their organization's strategy. This suggests that almost a third of b2b brands have a structured vision for the execution of strong customer experience, although it is not yet ingrained in the company culture.
What are the secrets of b2b customer experience excellence?
With this in mind, how can b2b brands become more customer-centric to the point that the customer experience is embedded into the company culture? In examining the customer experience of over 500 b2b brands, we identified a step-by-step process to achieving b2b customer experience excellence that applies to virtually all b2b brands, as shown in the graphic below. We then tested how well large b2b brands perform on each of these factors of customer experience excellence, on a 10 point scale where 1 means poor and 10 means excellent. The far right column of the table indicates the top 3 box score, i.e. those rating their organization an 8, 9 or 10 out of 10.
At least a quarter of b2b firms perform well on each step of the process towards customer experience excellence. The highest performance is on the first step, commitment, yet only around a half of b2b firms are committed, i.e. enthusiastic about satisfying customers and making them feel valued. This is alarming given that commitment is the foundation to success. In other words, without being committed to delighting customers, it is very difficult to deliver an excellent customer experience.
Knowledge-based companies (such as those in IT, financial and professional services, healthcare and education) rate their customer experience performance higher than companies in trade and services (such as wholesale, telecoms and utilities) and companies in manufacturing and construction. Knowledge-based companies typically entail more customer interaction with people and so there is arguably more opportunity to build strong customer relationships.
How can b2b brands improve the customer experience?
1. Commitment: Being enthusiastic about satisfying customers and making them feel valued
The first step in customer experience excellence is to be committed to satisfying – and where feasible, delighting – customers. Employees have to share a common goal of customer centricity for 100% commitment to the customer experience across the organization. Cintas, the facilities management company, refers to its employees as "Partners" as a means of engaging their cooperation towards the shared purpose. Southwest Airlines takes this a step further by capitalizing all those who engage with its brand in some way. Southwest's purpose includes "Connecting People" and its mission includes "dedication to the highest quality of Customer Service".
Companies committed to customer experience excellence should be passionate about their customers to the point that customers recognize the brand's efforts in going the extra mile. These extras drive differentiation yet are usually small actions and have a low cost to implement. The founder of the Ritz-Carlton hotel said recession isn't an excuse to eliminate distinguishing features such as bouquets of fresh flowers, as this would bleach the customer experience clean of what makes the hotel distinct. Ritz-Carlton guests are not after a bed and four walls for the night; they are seeking an exceptional experience where every touchpoint with the brand makes the customer feel special.
The more sophisticated companies boast customer experience-dedicated teams. These typically comprise a head of customer experience who is supported by someone in a research role (to collect and analyze the voice of the customer), someone in a process implementation role (to ensure the customer experience is ingrained across all processes), and someone in a culture role (typically part of the HR function). The most successful companies are those with cross-functional teams, i.e. various integrated functions across the organization focused not only on improving the customer experience but on reinventing it. McKinsey claims that less than 30% of companies have a highly collaborative culture, indicating that most have work to do in achieving a shared commitment to customer centricity.
According to the Service Profit chain, customer service improvements are linked to employee satisfaction. The more successful companies at delivering an excellent customer experience are those who also understand what satisfies and motivates employees. And they are companies that typically reward employees for exceptional contributions to customer experiences.
Case study: Safelite AutoGlass has a "Wall of Fame" displaying employees. Up to 75 employees (typically spanning numerous roles across the company) are recognized annually at Safelite, all of whom were nominated by their leader or peers. Such displays of employee accomplishments towards the shared goal of delivering exceptional customer experiences ensure that customer centricity is always a focus across the whole company.
2. Fulfilment: Understanding and delivering on customer needs
Understanding and delivering on customer needs is vital to customer loyalty, but is easier said than done. Customer demands are frequently diverse and increasingly demanding – more customized, cost effective, quicker, etc. In spite of this, up to half of b2b suppliers believe that quality and price are all that matter. This oversimplification is perpetuated by sales teams driven by short-term sales targets and obsessed with selling on price (as opposed to on value). Sales teams are often poor listeners fixated on selling products and services they have to sell, which can be very different from what the customer really wants and values.
The requirements of customers transcend functional needs like quality and value for money. Customers are individuals and have emotions and attitudes. It is therefore important that companies not only understand their customers' needs and behaviors, but display empathy, especially when customers report issues. This is where segmentation can help.
Case study: A UK mortgage company trains its representatives to identify and allocate a customer into one of its personality segments. This enables the rep to quickly determine whether they are interacting with a "controller," a "thinker," a "feeler," or an "entertainer," and to tailor their responses accordingly. The segmentation strategy improved the customer experience and decreased costs by reducing repeat calls by an impressive 40%.
Successful fulfilment also requires an understanding of unmet needs and what keeps customers awake at night. This enables suppliers to differentiate their offering and in some cases, exceed customer expectations. For example, an insurer serving livestock farmers challenged by climate change developed a digital solution specifically tailored to farmers' needs. This offering provides time-stretched farmers with valuable information such as historical and predicted weather data, in addition to the ability to buy policies online at times when the farmers aren't occupied by their job (such as late evenings).
B2b audiences increasingly value suppliers that help them differentiate and better serve their customers. Innovation and partnership are key to delivering against the needs of customers' customers, but these requirements are often insufficiently met. Most b2b companies have a parochial view of the customer being the direct consumer of their product or service, and so the best-in-class b2b companies are those who understand the full value chain and positively impact their customers' customers.
3. Seamlessness: Making life easier for the customer
Across virtually all b2b markets, a top driver of overall loyalty is ease of doing business with the supplier. Regardless of whom the customer is buying from – be it a manufacturing company, a reseller, a SaaS provider, a consultant – seamlessness is central to a smooth customer experience. In most cases, seamlessness is synonymous with simple, convenient and hassle-free.
Case study: HP identified a gap in the market for a more seamless ink replenishment solution and launched its Instant Ink offering. This consumables replacement service automatically delivers ink to the customer just before the ink cartridge runs out. It also provides attractive cost savings of up to 70% through the subscription program with its high yield cartridges. The subscription model makes the customer experience simple, the delivery to the door makes it convenient, and the proactive automatic replenishment makes it hassle-free.
Customer surveys often assess the amount of effort the customer has to put into the relationship with the provider through the Customer Effort Score. Feedback on poor performance on this metric indicates how improvements to seamlessness can be made. By way of example, customers resent providers that consume more time than they deem necessary as their time is precious and bears a cost. Complaints on this issue include time spent on hold on a phone call, wasted time repeating the same information, and lost time in having to deal with incompetent systems, people and processes. It is clear that reducing customer effort is pivotal to delivering a more seamless and therefore more superior customer experience.
4. Responsiveness: Timely response, delivery and resolution
As consumers in the digital era, we are accustomed to intelligence at our fingertips and receiving answers in a matter of seconds. Business professionals are also consumers and have the same expectations in the workplace. Timely response, speedy delivery and fast problem resolution have become the standard. Companies that excel on providing responsiveness that is quicker than competitors and in a timeframe that exceeds customer expectations are likely to deliver a superior and memorable customer experience. For example, financial-technology start-up Kabbage requires just 7 minutes to approve a small-business loan – nearly 5,000 times faster than the 20 days it takes a typical bank.
Responsiveness spans numerous touchpoints across the customer journey including communications, deliveries and issue resolution. Failing on this important requirement can increase customer defection.
B2b customer experience research programs can assist companies in becoming more responsive, not just in identifying where improvements need to be made, but also by providing a platform through which remedial actions can be taken shortly after a problem has occurred. For example, real time detractor alerts enable problem resolution to be taken quickly.
5. Proactivity: Resolving issues before the customer feels the pain
Proactive companies are those capable of anticipating customer needs and desires and that strive to resolve issues before the customer feels pain. It is easier for companies to be proactive if they are good at fulfilling customer needs and can foresee potential customer needs and pain points – such as in the case of Amazon Dash and HP Instant Ink which prevent the problem of "running out" before it happens, while making life easier for the customer.
Proactivity needn't require new product or service offerings. For example, the lighting company Osram Sylvania identified that a simple change in language could make a big difference to the customer. Words like "can't," "won't," and "don't" naturally invoke feelings of disappointment and dissatisfaction as they imply an inability to deliver against customer needs. The company therefore trained its reps on alternative phrasing with a positive spin, such as indicating when an item would be in stock, as opposed to the disappointing alternative of stating that the item is currently unavailable. Examining root cause can provide insights on where proactive measures need taking:
Case study: Bell Canada recognized that a high percentage of customers were calling back requesting usage instructions relating to a particular feature. As a forward resolution to the issue, reps now provide a quick tutorial on the feature over the phone, resulting in fewer call-backs and a drop in customer churn by 6%. For more complex issues, the company sends follow-up e-mails which are easier than lengthy instructions via telephone. This proactive approach means less effort for the customer and a more seamless and hassle-free customer journey.

Fidelity uses a similar proactive support process on its website by providing "suggested next steps" to customers completing certain transactions. For instance, customers who change their address online are also asked about their interest in ordering new checks and taking out new insurance. Such proactive measures have resulted in a reduction of customer calls by 5%.
6. Evolution: Continually seeking to improve the b2b customer experience
Customer needs, behaviors and attitudes can change any time, as can competitive threats and influences such as technology and legislation. Thus companies that already perform well on delivering an excellent customer experience cannot be complacent. The totally customer centric firm acknowledges that improvements must be made on an ongoing basis.
The more receptive companies to evolution are those that are agile and open to applying design thinking to the customer experience. This entails reinventing how customers interact with the company to reengineer and transform the customer journey.
Case study: The Netherlands-based bank ING created a solution for its retail and corporate clients that enables them to access real-time account overviews and customized reporting, along with the ability to process various transactions from any location. This required the bank to conduct a major overhaul of its systems and processes involving omnichannel automatic integration of customer data. After just one year, ING had grown profits by 23% and increased its share price by 15%.
So what does this all mean?
Business-to-business audiences look for solutions to problems, or offerings that better meet their needs, such as more customized products, better integrated systems, increased responsiveness, lower cost-in-use, or higher productivity. Influenced by the consumer world, many b2b audiences are also seeking an improved experience in using a b2b product or service – a customer journey that is seamless, more convenient, and hassle-free. Savvy b2b suppliers sell an experience and outcomes, not products. We operate in an experience economy where brands embody more meaning through experience.
Customer surveys and loyalty research tends to assess company performance in silos. B2B customer experience research, however, assesses the whole customer journey in terms of interconnected touchpoints, and current and anticipated pain points. Even in value chains with numerous channel partners and routes to market, it is possible to identify opportunities for enhancing the customer experience, such as in the case of HP with its Instant Ink offering.
Customer journeys are more complex than ever before as the average b2b customer uses six different channels (such as in-person reps and ecommerce sites) over the course of their decision-making journey. This can make it challenging to deliver a seamless experience, yet b2b buyers who interact with multiple channels spend more than those who only purchase from a single channel. The more profitable customer experiences, therefore, are those that comprise omnichannel marketing and sales strategies. They are also typically delivered by companies that are more agile.
Customer experience excellence recognizes that the customer isn't a mere transaction. In b2b markets, the customer often comprises numerous decision-makers and influencers within the same company, often with different needs. The more sophisticated suppliers know how to sell on value to these different audiences. They also understand the broader impact of their offering in terms of the benefit to their customers' customers.
The foundation of b2b customer experience excellence is a commitment to putting the customer at the core of what the company does, how it does it, and ultimately why it does it. Less than a half of b2b firms are enthusiastic about satisfying customers and making them feel valued, and without a commitment to delighting customers, it is impossible to deliver an excellent customer experience. The starting point, therefore, is to obtain board-level buy-in on ingraining customer centricity into the fabric of the company. Although cultural alignment doesn't happen overnight and customer experience management needs to continually evolve, the financial returns of customer experience excellence can be immediate and deliver a sustainable competitive advantage.