Everybody is talking about loyalty nowadays.  It is not that customer satisfaction has fallen by the wayside; rather it is that businesses recognise that a satisfied customer isn't necessarily a loyal one.
Why Loyalty Is So Important
Let's think about that for a minute.  Why may a satisfied customer not be loyal?  There could be a number of reasons.  Firstly they may not be that satisfied.  We researchers measure satisfaction on scales and, on a scale from 1 to 10, most companies achieve a score of around 8.  This is right in the middle of what we call a "corridor of average satisfaction" which spans from 7 to 9.  In other words, 8 out of 10 might sound good, but it is only OK.  If you want your customers to stay loyal, you have to have scores of 9 out of 10 on the things that really matter.
Fig 1: The Zones of Customer Satisfaction: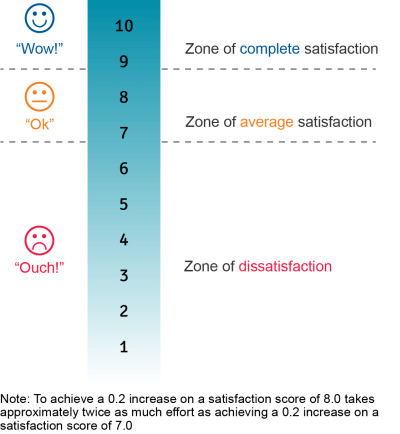 We should also recognise that for some customers, it is not that difficult to switch suppliers.  A tempting offer from a competitor could easily turn the head of a non committed customer.  We shall return to this point shortly.
There may of course be shortfalls in your own supply that encourage people to seek another supplier.  The supply of commodities and steel has been restricted over the last couple of years and this has prompted a hurried search for new suppliers.  No longer are Eastern European and Chinese suppliers considered unacceptable; today there are more global players in the game.
There are many statistics bandied around on the cost of customer acquisition compared to the cost of customers staying loyal.  A search on the internet will yield estimates from it being five times more costly to find new customers through to it being 20 times more expensive.  No doubt much depends on your industry and the cost to serve it.  One thing is for sure, finding a customer in the first place is a very expensive process and it is sacrilege to lose them.
In a post by Bill Bleuel, Professor of Decision Sciences at Pepperdine University, he makes the point that the most profitable firms enjoy customer retention rates of around 95% and that the average firm has a customer retention rate a good deal less than that at around 80%. He also makes the claim that defecting customers will tell 8 to 10 people about their negative experiences.
We hardly need these statistics to tell us the obvious and that is customer loyalty is important for both growth and profitability.  Forget the spurious precision that accompanies these claims; it makes sense that achieving loyal customers should be a vital aim of any company.
Don't confuse loyalty with inertia
B2B International has been researching customer loyalty for many years and a question we always like to ask is "how many new suppliers of product X (the one we are researching) have you introduced in the last five years?".  (Note that we prefer to ask about the introduction of new suppliers rather than switching suppliers as many companies might still have their old supplier on the backburner while they introduce a new one, rather than stop buying from them completely).  The typical response that comes back is that in most business-to-business markets, 40% to 50% of companies have not introduced any new suppliers of a product in the last five years.  At face value it appears that a huge proportion of customers remain loyal to their incumbent supplier and are not inclined to bring new ones in.
In a recent workshop, a member of the sales team told the story of how he recently visited a large customer and asked the managing director if he was happy with his company's products and services.  The managing director shrugged his shoulders and said that he had no idea.  He pointed at the phone on his desk and said "if that phone doesn't ring, I am happy because I know that there isn't a problem – and it hasn't rung."
Now this may seem a happy state of affairs – a no problem supplier.  It could, however, be a dangerous state of affairs as we cannot be sure what is happening at the many touch points throughout the company where the supplier is leaving its mark.  How often is there a late delivery?  How often is delivery on time but not in full?  How often does one of the pallets break open?  How often is there an invoice query?  How often does the product go out of spec?  How often is the company frustrated by not being able to place an order before 9 am or after 5.30 pm?  In isolation each of these failings may not cause a huge ripple that prompts a call to the managing director's office, but each could cause rancour that builds.
For many buyers it is easier to carry on dealing with their existing suppliers than to make a change.  Although another company's offer may be alluring, people prefer to play safe – "the devil you know is better than the devil you don't know" etc.
Satisfaction can therefore be misleading and dangerous because the apparent loyalty may be no more than inertia or laziness on the part of the buyer.  Inertia can quickly change if something goes dramatically wrong, or a series of small failures causes the buying company's patience to snap, or if a competitor knocks on the door with a mouth watering, tempting offer.
What engenders loyalty?
Customers defect for two primary reasons: their need for a product or service has ceased, or the product/service they are buying has failed to satisfy their needs in some way. And, when we say that the offering has failed in some way, it means that they were let down or their expectations were not met.  Being simply OK is good, but not good enough in this highly competitive world, when others are prepared to do anything to win and keep the business.
It is important to emphasise that one of the most important factors that builds loyalty is the high quality of the product and service that is being offered.  There is absolutely no substitute for this.  Any compromise on quality carries a huge risk.  In a recent paper published in the International Journal Of Market Research, the importance of quality was emphasized together with satisfaction and image.  The diagram below shows how different authors believe there to be different drivers affecting loyalty.
Fig 2: Examples of Causal Models of Drivers and Customer Loyalty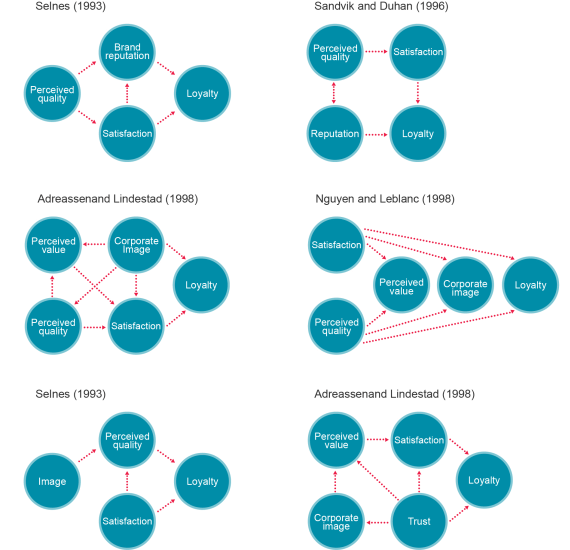 This said, there are many industrial products where there is absolutely no difference in quality between the alternative suppliers.  The products are made to a standard specification and there is not much scope to offer alternatives or improvements.  By the same token, prices and deliveries from most of the major suppliers are likely to be very similar.  They use the same manufacturing techniques and processes and as a result have the same costs, which means prices everywhere are within a similar band.  This brings us to the most important and possibly obvious point that about customer satisfaction and loyalty which is that it is not driven by the hygiene factors that every major player has to get right to serve the market.  Customer loyalty is driven by small things, the softer things that are harder to measure, and the little things which in isolation seem inconsequential.
Customer loyalty is strongly driven by the relationships that are built up between the sales and service teams and the customer.  Typical drivers of customer loyalty are sales and service staff that solve customers' problems, that are easy to get hold of, that are pleasant to deal with, and that respond quickly.  It is very difficult to sack somebody you like and who does a good job for you!
A supplier of industrial products recently won a new order and on the first day of delivery, the telephone sales agent who took the order arrived at the customer's gate to meet the truck on its first visit.  This so impressed the customer.  They said they had never experienced such service from any of their suppliers and how wonderful it was to have this care and attention.  The sales agent made the point that they were very grateful for this new business and the first delivery is a big occasion deserving a special effort.  She said that she wouldn't be there to meet the truck when it arrived in the future and in any case it would not be necessary.  However, she will be taking care of orders and delivery arrangements from now on and it is nice to meet the faces behind the phone.  As might be imagined, the customer was delighted and a strong relationship was cemented from the outset.  This customer is likely to stay loyal for a long time to come.
The secret of customer loyalty is finding small things to do that go beyond the customer's expectation and, as a result, make a big impact.  You need to be relentlessly imaginative in finding a constant stream of new and different initiatives.  Old favourites are such things as an occasional bunch of flowers or a small gift to mark an occasion, a birthday card, an unexpected invitation to go to a sporting event or a show.  It is these small and unexpected things that build and strengthen relationships and engender customer loyalty.
How do we measure loyalty?
Although we recommend regularly checking on the frequency with which people introduce new suppliers to their company, it is not the metric that tells us whether loyalty has been achieved.  There is a strong correlation between high satisfaction scores on issues that really matter and loyalty but, there is an even stronger correlation between "likelihood to recommend" and customer loyalty.  Advocacy (or recommendation) is the ultimate accolade.  There can be no greater measure of loyalty than a satisfied customer who says "I strongly recommend you do business with this supplier; I use them and I wouldn't go anywhere else".
Bill Bleuel, in the post mentioned earlier, says that a referral from a loyal customer has a 92% retention rate compared with 68% for a customer acquired from advertising.
Three important steps to achieving devotion from your customers
In conclusion, there are three steps to ensure loyalty from our customers:
Step 1 – Make Sure That The Basics Are Right
It is no good thinking that you can build customer loyalty if there are any failings at all in the basics of your offer.  The quality of your product and service in particular has to be unquestioned.  Deliveries must be on time, in full, every time.  The price of your offer must be good value but it is not necessary that it is the cheapest.  Indeed, we know that low prices do not engender loyalty because in general low prices mean low service and this in turn means low loyalty.
Step 2 – Work On The Softer Issues
Loyalty is based on the strength of the relationships that are built up with the sales and service teams.  It is the result of many little things that often go beyond the expectations of the customer.  It is the accumulation of these little things that create trust that will not be jeopardised by a move to a new supplier.  Recognise that from time to time things will go wrong and when they do, fix them quickly and where possible, give something extra to make up for the failing.  This is the "fix it + 1" syndrome; repair the problem and add something that makes the customer say "wow!"
Step 3 – Measure And Control
Finally, measure everything.  Measure customer churn, measure complaints, measure customer satisfaction, measure the frequency of introducing new suppliers, and measure the likelihood of recommending.  Through measurement will come an understanding of the degree of loyalty of your customers and the tools to ensure that it is driven to the highest possible levels.