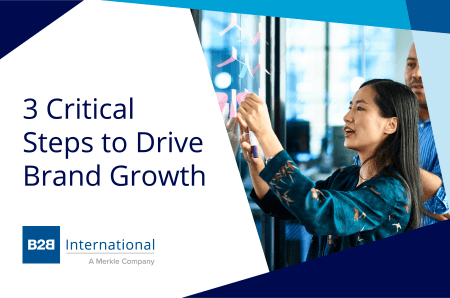 Building a Strong Brand Position is High on the Agenda for B2B Organizations
The desire among B2B brands to build their brand and position it for growth has never been greater. In our recent study of senior B2B marketing professionals, building a strong brand position emerged as a top marketing strategy of focus for the years ahead.
To realize their ambitions to grow, B2B brands will need an effective brand strategy aligned to a greater brand vision. Whether the ultimate goal is to strengthen the brand's current position in the market and differentiate from competitors or reposition the brand to take advantage of new opportunities, the path to growth is a three-step process fuelled by insights.
1. Measuring the Current Health of the Brand
The first step towards positioning a brand for growth is to establish the current health of the brand. This requires a baseline understanding of three brand fundamentals:
Brand funnel metrics
Brand perceptions and positioning
Brand delivery and performance
Figure 1: The 3 Brand Fundamentals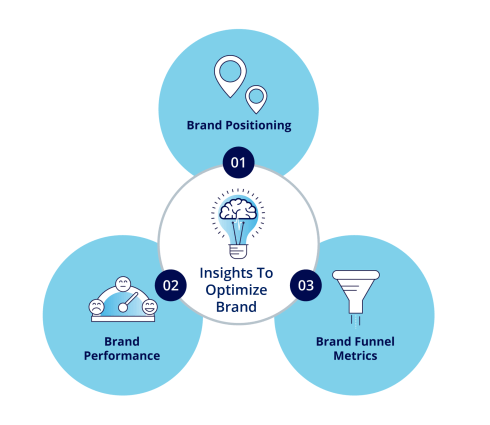 Brand funnel metrics
The objective at this stage is to measure the awareness (unaided and aided), familiarity, consideration, usage, share of wallet and share of mind of the brand and its competitors across the target market, and identify areas for improvement.
Brand perceptions and positioning
The second stage is to evaluate what the brand is known for (spontaneous and prompted) and how aligned these associations are to the overall brand vision. Key questions at this stage include how the brand can differentiate itself in the market and whether perceptions vary by different audiences and segments.
Brand delivery and performance
The objective at this final stage is to measure the market's satisfaction with current products and services offered by the brand and its competitors against key attributes, and identify relative strengths and weaknesses to understand how the brand is currently brought to life and how it can improve.
Brand Practitioners Podcast #1: Enno Houwerzijl, ING
The Role Insight Plays in Driving Brand Strategy at ING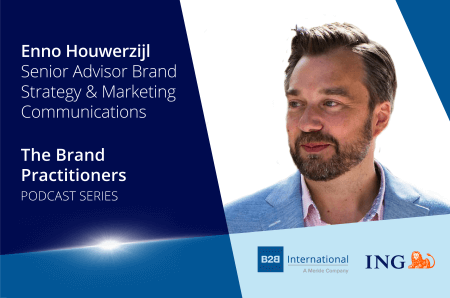 2. Assessing the Needs of the Target Market
The next step towards positioning a brand for growth is to develop a greater understanding of the needs and unmet needs of the target audience and how decisions are currently made. These insights can determine how well the brand's value proposition and overall brand experience align with the market and identify areas for improvement.
A key focus at this stage is to understand how buyers search, evaluate and select suppliers in the category and who is involved in the decision-making process. Conducting needs assessment research as part of the brand research program can provide answers to questions such as:
What is most important to buyers?
What are their expectations and requirements from a supplier?
What are their needs and unmet needs?
Which roles have the most influence in the decision-making process?
How do buyers stay informed on their industry?
What are the biggest challenges and trends facing the market?
Where do buyers go to find information on their challenges?
Where do buyers go to assess and compare solutions?
After identifying key decision drivers along the purchase journey and the sources of information buyers trust the most, recommendations can be provided on how to evolve the value proposition, which brand messages are most compelling to the target audience and the most optimal way of delivering the brand message at each touchpoint.
Further reading: What experiences do buyers want to have with B2B brands?
In 2020 and again in 2021, B2B International undertook an extensive research study into the factors that drive the "ultimate B2B customer experience", surveying over 3,500 B2B buyers and decision-makers.
This study found that the best B2B brand experiences are driven by 4 "Superpowers" and 30 specific levers for adding value at both company level and buyer level.
"Superpowers" at company level:
Reliability – "A brand we can trust to deliver"
Understanding – "Gets my company's needs"
"Superpowers" at buyer level:
Enrichment – "Makes my work life better"
Pre-eminence – "A brand people are proud to work with"
Figure 2: The 4 Brand Superpowers That Create The Ultimate
B2B Customer Experience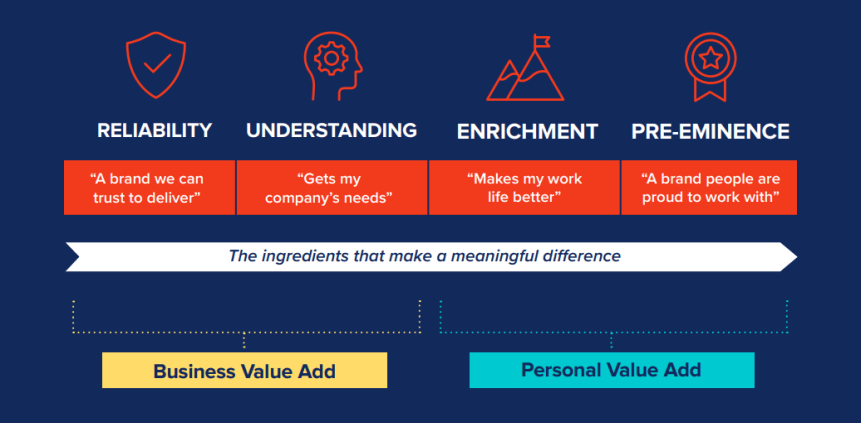 The data from this study can also be used in B2B International's brand research programs as an input into the process of crafting relevant attribute lists for brand positioning and brand experience that drive at the expectations of modern B2B buyers.
To take a look at the research yourself, the full report can be downloaded here.
Brand Practitioners Podcast #2: Davion Ford, Arcadis
The Key Challenges in Building Successful B2B Brands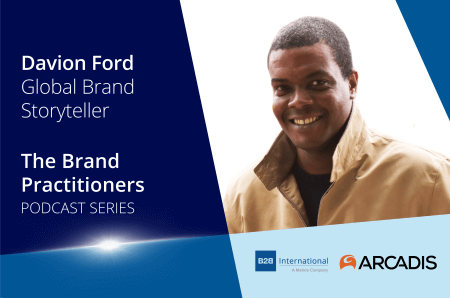 3. Tracking Progress Towards the Brand Vision
Once a baseline understanding of brand health metrics has been established and the needs and behaviors of the target market have been identified, these insights can then inform the development of a strategy that aligns with the brand vision and positions the brand for growth.
The focus of the brand research program will then shift towards measuring the impact of the brand strategy and marketing campaigns over time, using the brand health benchmarks gathered at the beginning of the process, to track progress towards the overall brand vision.
For example, in addition to a brand health tracking program monitoring changes in brand health metrics such as awareness and perceptions at regular intervals, advertizing effectiveness research can also be conducted to measure campaign recall and impact, gather prompted feedback on campaign stimulus, and measure changes in brand awareness and perceptions pre- and post-campaign.
Key models and frameworks used to communicate brand research insights
To ensure the insights from brand research programs are as easy to understand and actionable as possible, the following models are commonly used:
B2B International's Brand Health Wheel is used to summarize brand performance against three critical aspects: 1) awareness, consideration & usage, 2) brand positioning and 3) brand delivery.
Figure 3: Brand Health Wheel Example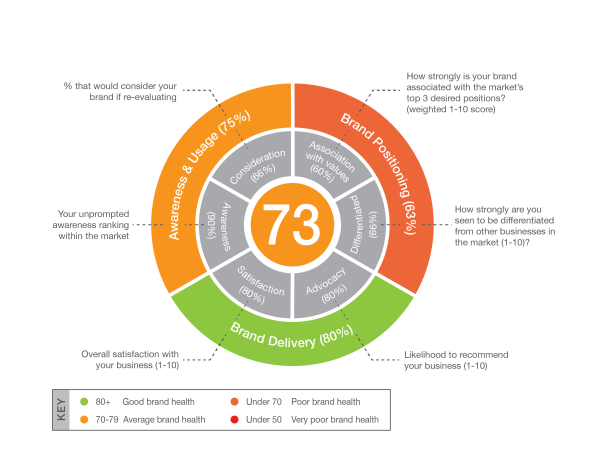 The Brand Funnel is used to diagnose dropout points in the buyer journey and helps to establish where in the awareness chain changes occur and where information requirements should be focused to improve performance.
Figure 4: Brand Funnel Example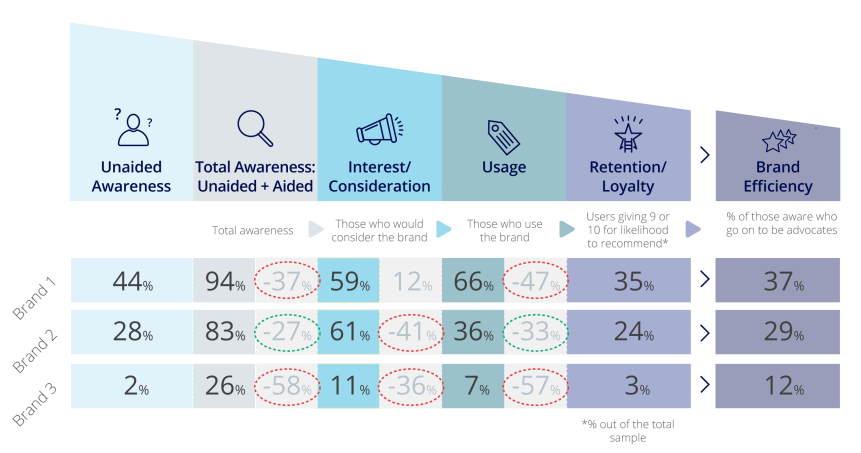 B2B International's Brand Strength Score is used to provide a single, easy to understand metric that can be used as a yardstick for measuring a brand's strength by distilling and combining multiple inputs and performance scores across key categories.
Figure 5: Brand Strength Score Example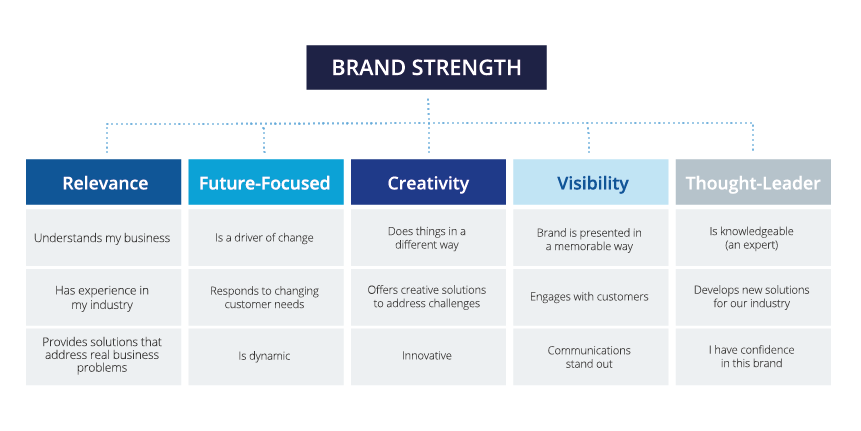 Driving Brand Strategy and Growth Through Insights
Whether your brand is seeking to gain market share by strengthening its current position in the market or take advantage of new growth opportunities through repositioning, a comprehensive brand research program is the best way to gather the insights needed to develop a successful strategy and track progress towards the overall brand vision.
As global brand leaders in B2B brand research, B2B International can work with your brand to develop a tailored brand research program to understand the current health and perceptions of your brand, determine how to align your brand offer to the needs of your market, create an effective brand strategy to reach your target audience with compelling messages, measure the effectiveness of your marketing and track brand health over time.
To learn more about our brand research programs and read case studies on how we've helped other B2B organizations position their brand for growth, check out our Brand Research section.
Brand Masters Podcast Series: Episodes 1-4
The Latest Brand Building Principles From Leading Brand Experts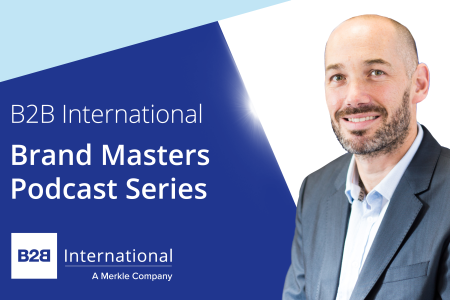 Readers of this article also viewed: