The B2B Insights Podcast Channel was created to help marketing and insights professionals navigate the rapidly-changing world of B2B markets and develop the strategies that will propel their brand to the top.
Subscribe today for your dose of exclusive insights from the B2B market experts.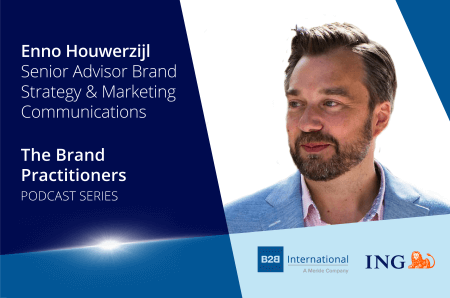 Our recent Brand Masters Podcast Series taught us that effective brand marketing is crucial to driving market share growth over the long-term. The series introduced listeners to key B2B brand building principles from some of the world's leading brand experts.
Now it's time to hear how these principles are being put into action by those responsible for driving brand growth in their own organizations. In this Brand Practitioners Podcast Series, we invite brand leaders from organizations across different industries to discuss how they use brand marketing to drive growth and the role research plays in the overall brand and business strategy.
In this first episode, Conor Wilcock is joined by Enno Houwerzijl, Senior Advisor Brand Strategy & Marketing Communications at ING. ING is a global banking and financial services company serving more than 38 million customers, corporate clients and financial institutions in over 40 countries. Its primary businesses include retail banking, commercial banking, investment banking, wholesale banking, asset management and insurance services.
Key takeaways from our discussion with Enno include:
The challenges in building a brand that caters to both B2B and B2C audiences and the key differences between B2B versus B2C brand building
Why B2B brands should be built around people and relationships
Why ING focus on a shared strategic audience for both B2B and B2C
How ING tackle mega topics like sustainability & how they differentiate in an authentic way
The role insight has played in driving brand strategy at ING
The biggest challenges faced while building the ING brand and how these challenges were overcome
Top tips for creating a more engaging and relevant brand in the B2B space
… plus lots more.
Listen to the podcast in full below.