Market Research In Practice – How to get greater insight from your market
---
Market Research in Practice is a practical introduction to market research tools, techniques and issues. Providing a clear, step-by-step guide to the whole process - from planning and executing a project through to analysis and presenting the findings - the book explains how to use these tools and methods effectively and obtain the most reliable results.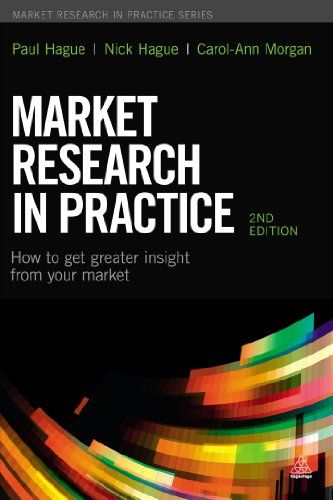 About the book - How to get greater insight from your market
Market Research in Practice assumes no previous knowledge of the subject and offers guidance for the reader who is either studying or completely new to market research.
Contents include:
Uses of market research
Market research design
Desk research
Focus groups
Depth interviewing
Observation and ethnography
Sampling and statistics
Questionnaire design
Self-completion questionnaires
Face-to-face interviewing
Telephone interviewing
Online surveys
Data analysis
Reporting
International market research
Research trends
An invaluable guide for students, market researchers and non-professional researchers alike, Market Research in Practice is fully international in scope, and offers examples and case studies from Europe, the United States and the rest of the world.
"A really practical, down-to-earth book with clearly laid out examples and illustrations... The use of real-life scenarios helps to demystify the world of research through logical steps."

Carol Sheppard, Customer Experience Research Manager, Molson Coors
"Accessible and attractively presented with a good structure built on years of first-hand experience. Provides insights with clear tips for success throughout."

John Pal, Senior Lecturer in Retailing, Manchester Business School
Published by Kogan Page
Join our book group
We've set up a LinkedIn discussion group, where you can air your thoughts about all things related to b2b research. Join us at Market Research In Practice.