There have been millions of words written on the subject of branding, but they nearly all relate to consumer products and markets.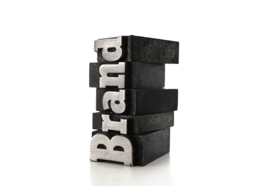 This is hardly surprising in the light of the megabucks spent on brands by firms like Coca-Cola, Campbell's, McDonald's and Levi's. However, for most managers of businesses, the strategies of the branding gurus are as remote as the sums of money which the big brands spend on advertising. A manufacturer of printing presses in Manchester, a supplier of automotive components in Birmingham or an office equipment supplier in London will find little relevance in the branding theories because they are not written with them in mind.
This new e-book is written for managers whose customers are other businesses. Their products (or services) are not consumed in the High Street but are bought by other companies to help in their own output. This is the field of industrial and business-to-business marketing. This book has been written to show that branding is as appropriate for a company pressing metal pieces as it is for Pepsi Cola. It will work for a manufacturer of industrial hose just as it does for Honda. In fact, branding is working already for industrial companies but not with the efficiency it could. Many industrial companies have customers they have supplied for years. These loyal customers buy more than products; they buy trust, friendship, reliability and any number of other intangibles which have a value.
The Power of Industrial Brands leads industrial branding out of the shadow of its consumer counterpart, highlighting the important differences between industrial branding and consumer branding. This distinction will enable you to get to grips with the application of branding in an industrial company. In industry, it is the company's name that holds the key – it is the embodiment of your customer's perception of your product, price, delivery and quality of your total service.
Few buyers would change their supplier just because someone knocks on their door offering the same goods for 10 per cent less. The premium which a product enjoys over and above its commodity price, is directly attributable to the benefits the customer believes they obtain as a result of buying from that company. That difference lies in branding.
Based on the authors' 25 years of experience as marketing consultants to industrial companies, this book takes an entirely practical line, guiding you through each stage of the process to reveal:
How to create and build industrial brands
How to choose effective names
How to promote an industrial brand
How to build in service and customer care
How to continue to gain the maximum long-term value from industrial branding
To download individual chapters (in pdf) or as an audiobook (in mp3), please click on the links below.
N.B. To download mp3 chapters, you may have to right click and select "save link/target as…"
| # | Chapter Name | eBook | Audiobook |
| --- | --- | --- | --- |
| 1 | How Do People Buy Industrial Products? (incl. Preface) | pdf | mp3 |
| 2 | The Awareness And Associations Of An Industrial Brand | pdf | mp3 |
| 3 | Brands, Brand Values And Industrial Brand Image | pdf | mp3 |
| 4 | Sub Brands And Brand Extensions | pdf | mp3 |
| 5 | The Role Of Brands In Industrial Marketing | pdf | mp3 |
| 6 | Stripping Back To The Core Values | pdf | mp3 |
| 7 | Measuring Brands – Industrial Branding Research | pdf | mp3 |
| 8 | Creating And Changing Brands | pdf | mp3 |
| 9 | The Marketing Mix And Building An Industrial Brand | pdf | mp3 |
| 10 | Using Service To Build Brands | pdf | mp3 |
| 11 | Caring For Industrial Brands | pdf | mp3 |
| 12 | Revitalizing Flagging Brands | pdf | mp3 |
| 13 | Valuing Brands | pdf | mp3 |