In the summer of 2014, 226 business-to-business marketers took part in a survey commissioned by B2B International across North America and Europe. The companies were a representative sample of enterprises with average revenues of $5 billion per annum and with an average of 24,000 employees. A third of business-to-business companies taking part in the survey also have a B2C part of their operation.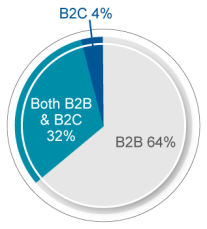 Does your organization market its products/services mainly to other businesses or directly to consumers?

In the eyes of business-to-business marketers the biggest problem they face is the absence of a unique selling proposition for their products or services. Using a scale from 1 to 10 to indicate a strong USP, business-to-business marketers could only give their products or services a score of 6.2. (As a benchmark, a score of less than 7.0 is considered a weak USP).

In view of this perceived lack of differentiation in their offers, it is not surprising that the biggest marketing challenges facing business-to-business marketers are innovation and building market share. These are closely followed by countering the competition and ensuring customer loyalty.
Top Business Challenges


What are the biggest business challenges faced by your organization?

Marketing programs are essential to counter the lack of differentiation but it appears that only a minority of business-to-business companies have them in place. Only just over half of all business-to-business companies have a product development program. Approximately the same proportion have a branding program in place. Less than a half have programs to address customer satisfaction and loyalty or segmentation.
Top marketing strategies currently employed:

The companies taking part in the survey were of the view that their organizations are more sales orientated than marketing orientated. This undoubtedly results in the lack of commitment to sophisticated marketing programs referred to above. At least two thirds of companies believe that their marketing spend is no better or less than competitors.


Which of the following statements do you believe best describes your organization's marketing spend compared to similar organizations in your sector?

This said, the business-to-business participants in the survey are committed to market research and carrying out five or six projects every year. The most popular research projects are customer satisfaction/loyalty and competitor studies.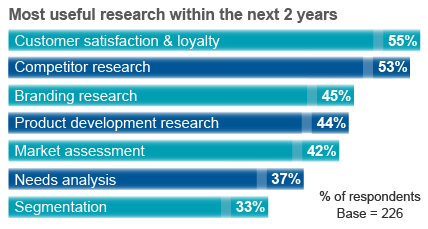 Which of the following types of market research do you think would be most useful to your company within the next 2 years?

When seeking a research supplier by far the most important requirement is that the company has relevant experience in the industry or market in question. Value for money is the second biggest influence. Thereafter, research buyers are looking for value-added capabilities and a high quality deliverable.


Assuming you have a need for a market research supplier within the next 12 months, what are the most important attributes you would look for?