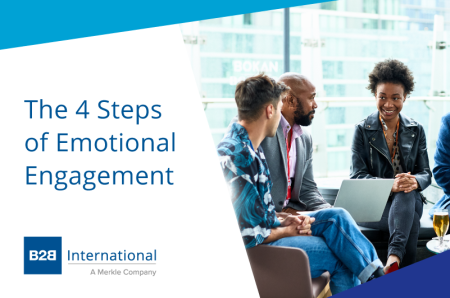 Emotions play a major role in B2B decision-making. The more engaged a customer is with a brand, the greater emotional attachment there is to the brand. And in the vast majority of markets, the leading brand is the one which has been most successful in connecting with their buyers on an emotional level.
As discussed in our recent blog post, Human to Human: The New World of B2B Marketing, the key to building stronger emotional connections with buyers is recognizing the human behind every buying decision and speaking to their individual needs, not just the needs of the business for which they work.
To help B2B suppliers build stronger brand connections and to harness the power of the all-important emotions that buyers feel, we created the "4 Steps of Emotional Engagement" framework.
Initially created based on our many years of project work, the framework has since been firmly validated by our recent research studies into B2B decision-making, starting with the 2019 'State of B2B' Survey and followed by two waves of 'Superpowers' research: Architecting The Ultimate B2B Customer Experience and The New Shape of Superpowered B2B Customer Experiences.
Trust – A brand has to be trusted to enter the consideration set. B2B brands with high levels of trust have built their reputations on reliability and expertise.

Key brand attributes:

"A brand you can rely on"
"A safe brand"
"A reputable brand"
"A brand I know others like us use"

Empathy – A brand needs to demonstrate an understanding of the buyer's needs, pain points and desires. Empathetic brands care about their customers and share similar values as them.

Key brand attributes:

"A brand that is genuinely sympathetic to customer issues"
"A brand that is easy to relate to"
"A brand that is agile in problem-solving"

Enrichment – Beyond understanding the buyer, the more emotionally resonating brand is one that makes a significant impact on the user experience and / or empowers the customer to achieve more.

Key brand attributes:

"A brand that provides evidence and insight to help us make decisions more confidently"
"A brand that keeps us informed on market trends and changes we need to know of"
"A brand that goes the extra mile"
"A brand that makes customers feel inspired"
"A brand that helps customers feel more accomplished"

Eminence – The ultimate level of emotional engagement is when the brand is held in high esteem by buyers, to the point that they are proud to associate themselves with the brand. These are typically prestigious brands or those that comprise a degree of exclusivity..

Key brand attributes:

"A brand for others to live up to"
"A brand I'm proud to use"
"A brand ahead of the rest"
"A brand that helps us differentiate from our competitors"
"A brand that makes me feel special"
Our research shows that businesses choose to work with brands which perform well on at least one of the four levels of emotional engagement. Building emotional engagement isn't linear but establishing trust should be the first step, as trust is the emotional response most predictive of supplier choice.
An emotional connection of eminence is the ultimate and hardest to achieve within our framework. Our research reveals that 1 in 4 chosen B2B suppliers are able to evoke a sense of pride in the buyer.
If your B2B brand is looking to establish stronger emotional connections with your buyers, our brand positioning and perception research can assess how well your brand (or portfolio of brands) currently performs against each of the four steps and identify areas for improvement.