The B2B Insights Podcast Channel was created to help marketing and insights professionals navigate the rapidly-changing world of B2B markets and develop the strategies that will propel their brand to the top.
Subscribe today for your dose of exclusive insights from the B2B market experts.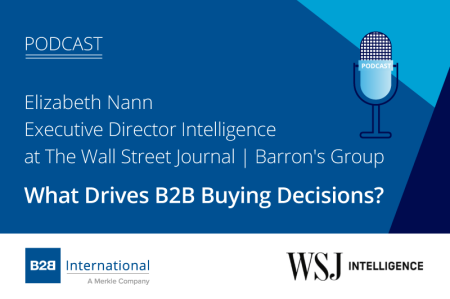 This week on the B2B Insights podcast, our Business Development Director, Conor Wilcock, is joined by Elizabeth Nann – Executive Director, Intelligence at The Wall Street Journal | Barron's Group. In this episode, Conor and Elizabeth talk through the WSJ's latest research study conducted by B2B International; 'Trust Your Decisions'.
From this podcast you will be able to understand:
The role WSJ plays in supporting commercial clients in ways such as thought leadership and proprietary research
Why the now established role of emotions in B2B marketing is still as important as ever
The impact of various information and news sources on emotions in the B2B world
What impacted a B2B purchase decision across Technology, Marketing, Finance and Professional Services sectors
The emotional connections that differentiate winning and losing brands
The impact of content and media exposure on decision dynamics…
… plus lots more.
Listen to the podcast in full below.