The B2B Insights Podcast Channel was created to help marketing and insights professionals navigate the rapidly-changing world of B2B markets and develop the strategies that will propel their brand to the top.
Subscribe today for your dose of exclusive insights from the B2B market experts.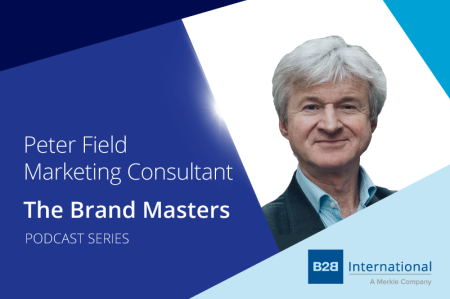 Our latest research showed that building a strong brand position has become one of the top B2B marketing strategies of focus during 2021. Here at B2B International, we help our clients create the ultimate brand experience through thought leadership, brand health tracking and understanding customer expectations (to name just a few).
However, we don't just stop at the research. We wanted to invite some of the B2B Brand Masters onto our B2B Insights Podcast in this latest series, to give you some insights and top tips to help inspire your brand strategy throughout the remainder of 2021 and into 2022 & beyond.
Join our Head of Growth Nick Hague as he takes you on the ultimate B2B branding journey with brand experts from around the world.
This week Nick is joined by Marketing Consultant Peter Field. Peter has been an independent consultant for over 20 years having left the agency world behind where he was a strategic planner for 15 years.
He is known to some as the "Godfather of Effectiveness" as a result of his global reputation as a leader in marketing and the author of a number of papers including (but not limited to) 'The 5 Principles of Growth in B2B Marketing', 'The Effectiveness Code', and recently released 'The Effectiveness of Brand Purpose'.
He is a true marketing expert, and we are thrilled to have him join us on the B2B Insights Podcast.
Key discussion points in this podcast episode include:
The role of emotion in B2B Marketing and how it can help deliver bottom line profit
Why a company should focus on brand building rather than sales activation
How B2B companies should invest in their marketing; does the 60/40 rule apply?
How Covid-19 has impacted marketing priorities
The relationship between market share growth and investment in advertising
Which media channel(s) drives the most value for B2B marketers
The importance of brand purpose and what this means for market share growth…
… plus lots more.
Listen to the podcast in full below.