The B2B Insights Podcast Channel was created to help marketing and insights professionals navigate the rapidly-changing world of B2B markets and develop the strategies that will propel their brand to the top.
Subscribe today for your dose of exclusive insights from the B2B market experts.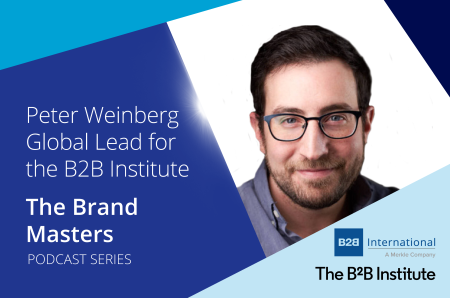 Our latest research showed that building a strong brand position has become one of the top B2B marketing strategies of focus during 2021. Here at B2B International, we help our clients create the ultimate brand experience through thought leadership, brand health tracking and understanding customer expectations (to name just a few).
However, we don't just stop at the research. We wanted to invite some of the B2B Brand Masters onto our B2B Insights Podcast in this latest series, to give you some insights and top tips to help inspire your brand strategy throughout the remainder of 2021 and into 2022 & beyond.
Join our Head of Growth Nick Hague as he takes you on the ultimate B2B branding journey with brand experts from around the world.
We are delighted to invite Peter Weinberg to the series in this week's episode. Peter is the Head of Development at the B2B Institute; a think tank funded by LinkedIn which researches the future of B2B marketing and decision making. He has spent most of his working career at LinkedIn, developing contrarian views. If you are therefore interested in what the B2B Marketing landscape looks like in 2030, then this is the podcast for you!
Alongside the discussion on 2030 trends, key discussion points in this podcast episode include:
Why are the most valuable ideas contrarian ideas?
The concept behind the trends "War on Brand", "Blockbuster Marketing" and "The Death of Hyper Targeting"
The benefits of brand building both short term and long term
How a B2C company like Disney can compare to B2B organizations
Why today's buyer is tomorrow's buyer
The efficiencies driven by broad targeting
The principals of Extra Share of Voice and how growth rates differ across sectors…
… plus lots more.
Listen to the podcast in full below.