The B2B Insights Podcast Channel was created to help marketing and insights professionals navigate the rapidly-changing world of B2B markets and develop the strategies that will propel their brand to the top.
Subscribe today for your dose of exclusive insights from the B2B market experts.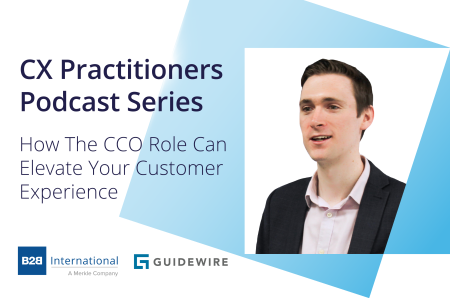 With customer experience (CX) a number 1 priority for most B2B companies in 2021 and beyond, we wanted to learn more from those who have put their customers front and centre through award winning CX programs, and how this has transformed their businesses. Join our research directors as they talk to CX experts to understand how and why they prioritize CX within their business strategies in our latest podcast series; The CX Practitioners.
This week our Director of Business Development & Sales Conor Wilcock is joined by Christina Colby, the Chief Customer Officer (CCO) at Guidewire. Guidewire provides cloud-based P&C (property and casualty) insurance software enabling business to streamline processes. It operates globally, serving more than 400 insurers, from new ventures to the largest and most complex in the world. On this podcast episode, we find out how the role of CCO truly gives a customer a seat at the table, and how it has enabled Guidewire to create a superior customer experience.
Find out more about the role and impact of a CCO in a global organization, plus…
How digital transformation enabled Guidewire's CX journey

The importance of understanding your customer's end user

The effect of B2C expectations on the B2B customer experience

How Guidewire creates partnerships with its customers

The role of insights in driving customer success

How Guidewire plans to remain at the forefront of innovation

The CCO's top 3 tips for creating the ultimate B2B customer experience…
… and lots more.
Listen to the podcast in full below.