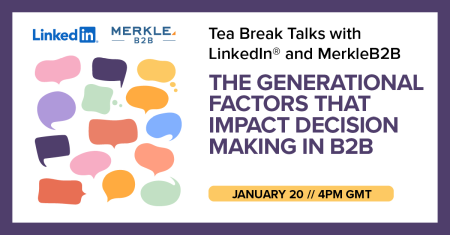 Title: Tea Break Talks with LinkedIn and Merkle B2B: The Generational Factors that Impact Decision Making in B2B
When: Wednesday, January 20 at 16:00 GMT / 11:00 EST
Where: Live Webinar
Summary
Recent research shows that the influence of Millennial decision makers on the B2B landscape will fundamentally change the way brands engage.
In this upcoming live webinar, experts from B2B International, gyro and the B2B Institute will share their findings on how emotions impact the customer experience and the steps brands must take to evolve and deliver against the expectations of Millennial decision makers.
Key takeaways
Ty Heath, Director of Market Engagement at the B2B Institute, will discuss their work with the Global Web Index which examines the changing behaviors and attitudes of "the BETAs," the first cohort of digital natives to assume positions of seniority in business, at a time of dislocation.

Matt Powell, MD at B2B International London, will discuss the four "Superpowers" b2b brands need to be able to create the ultimate customer buying experience and how this differs across generations.

Simon Calvert, Chief Strategy Officer at gyro UK, will discuss how companies that use these two bodies of research can shape the way they engage with audiences and how these findings can be applied to your B2B strategy.
This webinar has already happened and is available to watch on-demand.