The role of emotion in B2B marketing is something we've talked about for a long time here at B2B International.
While it's generally accepted that, as consumers, we are more likely to buy products or brands we have an emotional connection with, the prevailing opinion is that this emotion gets 'left at the door' in a professional context. The assumption is that, when we make buying decisions at work, it's all based on rational factors.
We've long suspected that this is not actually the case. 
So we did a survey, in March this year, looking at emotional drivers in a B2B context and assessing their importance. We asked the views of 2,000 business decision makers globally, within a range of business sizes and types, and we asked about the process by which they make buying decisions.
Our findings – and, crucially, what to do about them – will be outlined at our free, half-day event in Clerkenwell, London, on Tuesday June 4th, where delegates can hear about the latest insights on the role that emotions play in B2B decision-making.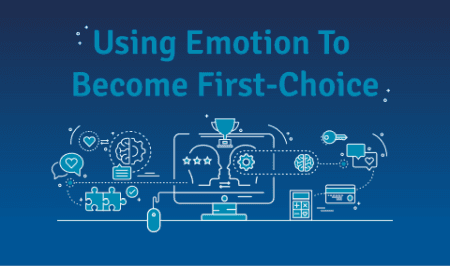 We found that it is overwhelmingly the case that brands which are able to generate an emotional response win – in fact, the survey revealed that emotions accounted for more than half of the overall decision drivers. This event has been organised as a result, to offer a roadmap of how B2B businesses can generate much-needed positive emotional response.
With a morning of presentations, including case studies and a panel Q&A, in which the audience will be invited to ask questions, this promises to be an illuminating event and particularly so for brand marketing, product development and insights teams.
We are urging B2B organisations not to lag their consumer cousins when it comes to marketing strategies with that all-important emotional connection in mind. There is a clear opportunity for B2B companies to close the gap and create differentiation.
Through detailed analysis, the presentation of survey findings, case studies and discussion, our event will provide delegates with a clear roadmap with regards how to build your B2B brand so that it develops emotional connections in the long term, whilst also leveraging winning tactics in specific purchasing situations. So, not only how to get onto the short list but also how to get over the line so that you are chosen over all other competitors, rather than coming a close second.
This topic clearly matters, given that a whopping 56% of the final B2B purchasing decision was found to be based on emotional factors. Both at the beginning and at the very end of the buyer journey affinity is critical, with 95% of decision makers stating that, even before contacting a supplier, feeling a sense of connection is as important as feeling confident in what a product or service actually does. So do join us and find out which four emotions have the biggest impact and how to elicit these.
Discover exactly which emotions winning suppliers arouse – as well as which emotions may result in you losing business. Let us help you decide exactly which steps you can take to create engagement and establish strong emotional connections.
After all, the B2B buying process is a complex one with a multitude of interrelated emotional and rational factors influencing each step of the path to purchase.
When navigating that maze, it's important not to lose sight of what's potentially the most important ingredient.