Innovation is the lifeblood of a business as it feeds growth. Some say that 30% of your portfolio should be products or services that are less than five years old. Driving innovation is not just the responsibility of science and technology; it should always have the customer in mind.
What we will set out to do
Our aim will be to generate as many realistic new ideas as possible. It is not unusual for us to deliver dozens of new ideas which are potential winners.
How we will do it
We will talk to different people within your organization to find out in which direction you would like to drive innovation. We may give your team homework so they can begin to ferment their thoughts. We will then run brainstorming sessions to turn these thoughts into workable ideas.
What you will get out of it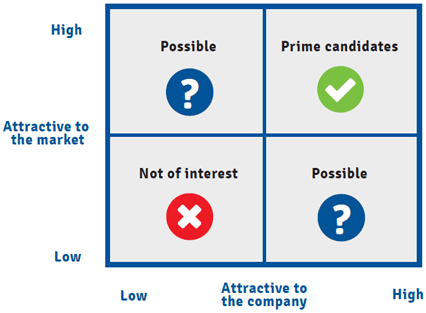 Our clients are always impressed by the number and quality of ideas we generate. We run the ideas through a directional policy matrix in which we score them according to their attractiveness to your company and their attractiveness in the marketplace. Ideas that are attractive to the market and to your organization are quite clearly the ones to focus on.
We come from a market research background and so it is easy for us to provide additional services such as testing the ideas which have been screened amongst real-life customers in focus groups or depth interviews.
Clients for whom we have carried out successful ideation workshops include Ansell, Aearo, Cintas-Berendsen, Air Products, Vaillant.