The B2B Insights Podcast Channel was created to help marketing and insights professionals navigate the rapidly-changing world of B2B markets and develop the strategies that will propel their brand to the top.
Subscribe today for your dose of exclusive insights from the B2B market experts.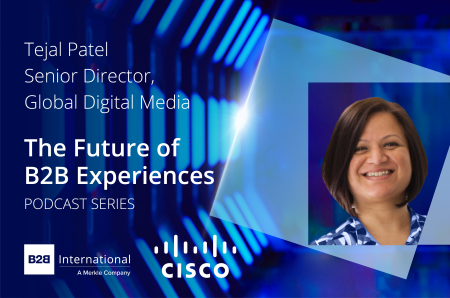 The B2B landscape is ever changing and super dynamic, rich in opportunities but not without its challenges. One challenge the sector has faced in recent years is that of rising expectations of today's B2B buyer. As a result, businesses have had to adapt, providing superior experiences to drive brand awareness, increase customer loyalty, and keep internal employees satisfied.
This brand-new podcast series explores how technology powers these experiences in B2B both now and in the future. From customer experience to brand experience, from user experience to employee experience, technology should now be at the forefront to ensure you remain successful in the B2B arena. The series is designed to inspire those who are wanting to continue to invest in their digital strategy, both along the buyer journey and also within the workplace, as well as provide food for thought as to what the future of B2B experiences looks like and how they will need to evolve in order to be a winning B2B brand.
In this second episode, Nick Hague; host of B2B Insights Podcast, is joined by Tejal Patel; Senior Director of Global Digital Media at Cisco. Tejal brings with her a wealth of experience in digital marketing having worked across diverse sectors for world renowned brands including Microsoft, Nokia, Santander and now Cisco. This podcast episode focuses on the future of work, as well as how digital marketing helps brands to get noticed in a very noisy world. With Tejal's career starting during the early days of the internet, her knowledge and experience of how b2b marketing within the digital space has evolved makes for an insightful episode…
Key Discussion Points Include:
The importance of emotional engagement in B2B
Integrated experiences in B2B & the complexities of a buyer journey
Biggest challenges brands will face in the future
Brand building vs demand generation during recessional times
The differences in marketing strategies between large corporates and challenger brands
How Cisco continues to innovate and stay a step ahead of the competition
Ways in which Cisco are putting sustainability at the core of their strategy
The future of work and the metaverse…
… plus lots more. Listen to the podcast in full below.