The B2B Insights Podcast Channel was created to help marketing and insights professionals navigate the rapidly-changing world of B2B markets and develop the strategies that will propel their brand to the top.
Subscribe today for your dose of exclusive insights from the B2B market experts.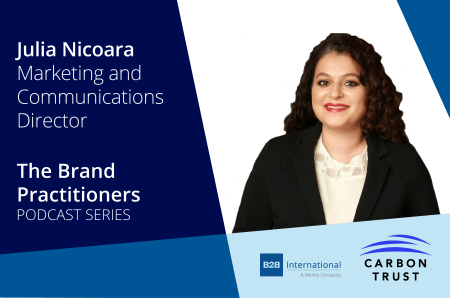 Our recent Brand Masters Podcast Series taught us that effective brand marketing is crucial to driving market share growth over the long-term. The series introduced listeners to key B2B brand building principles from some of the world's leading brand experts.
Now it's time to hear how these principles are being put into action by those responsible for driving brand growth in their own organizations. In this Brand Practitioners Podcast Series, we invite brand leaders from organizations across different industries to discuss how they use brand marketing to drive growth and the role research plays in the overall brand and business strategy.
In this episode, Nick Hague is joined by Julia Nicoara, Marketing & Communications Director at the Carbon Trust. Established in 2001, the Carbon Trust works tirelessly helping businesses, governments, and institutions around the world to contribute to, and benefit from, a more sustainable future.
In light of the increasing threat of climate change, the need to transform how we go about our lives whether from a personal, or business perspective, has never been greater. We must work together towards a greener and more resilient future to protect both our planet and our people. This podcast discussion is therefore a poignant one, and we are delighted to have one of the first "climate pioneers" join us on the B2B Insights Podcast to talk through many important topics.
Key takeaways from this podcast include:
An overview of what the Carbon Trust do to help combat the threat of climate change
The challenges they face as they fight for the greater good of our planet
Case studies to showcase how they bring to life their brand promise of "to accelerate your mission to net zero"
How they have cut through the noise and raised brand awareness on a global scale
How they have built a unified brand whilst working with both governments and businesses alike
The importance of organizations having a sustainability strategy
Can ESG be a brand differentiator in the B2B sector
Tips on how a B2B brand can build a greener agenda…
… plus lots more! Listen to the podcast below.