The B2B Insights Podcast Channel was created to help marketing and insights professionals navigate the rapidly-changing world of B2B markets and develop the strategies that will propel their brand to the top.
Subscribe today for your dose of exclusive insights from the B2B market experts.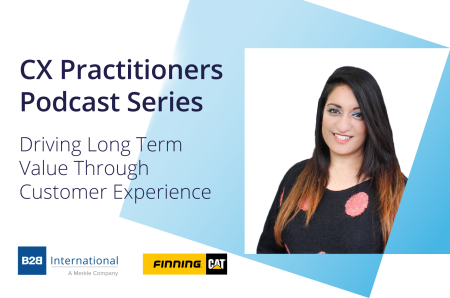 With customer experience (CX) a number 1 priority for most B2B companies in 2021 and beyond, we wanted to learn more from those who have put their customers front and centre through award winning CX programs, and how this has transformed their businesses. Join our research directors as they talk to CX experts to understand how and why they prioritize CX within their business strategies in our latest podcast series; The CX Practitioners.
This week our Research Director Simi Dhawan is joined by Peter Seaman, Customer Experience & Marketing Manager for Finning UK & Ireland. Finning is the world's largest dealer for Caterpillar, selling, renting and providing parts and service for equipment and engines to customers in various industries, including mining, construction and a wide range of power systems applications.
Peter has worked with B2B International on a number of customer experience initiatives and has overseen the implementation and development of many programs for both B2B and B2C organizations. You could therefore be forgiven for thinking he is an expert in his field. In this podcast, find out how you can drive long term value through CX plus…
The similarities between CX in both the B2B and B2C sectors

Top tips for implementing successful CX programs

How evoking emotion can create customer loyalty

The importance of internal collaboration across different departments

How internal culture impacts customer experience

The importance of listening to your customers through feedback…
… and lots more.
Listen to the podcast in full below.