The B2B Insights Podcast Channel was created to help marketing and insights professionals navigate the rapidly-changing world of B2B markets and develop the strategies that will propel their brand to the top.
Subscribe today for your dose of exclusive insights from the B2B market experts.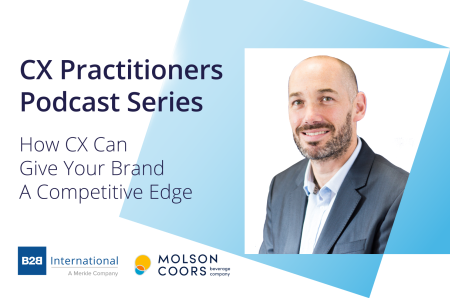 With customer experience (CX) a number 1 priority for most B2B companies in 2021 and beyond, we wanted to learn more from those who have put their customers front and centre through award winning CX programs, and how this has therefore transformed their businesses. Join our research directors as they talk to the CX experts to understand how and why they prioritize CX within their business strategies in our latest podcast series; The CX Practitioners.
This week our Co-Founder and Head of Growth Nick Hague is joined by Laura Lee, Strategy and Change Director at Molson Coors; the third largest brewer in the world with revenue of over $10 billion. Whilst the hospitality sector has been dramatically impacted by the pandemic, this has not stopped Molson Coors putting their customers central to everything they do. If you are interested in how CX can give your brand the competitive edge, even in challenging times, this is the podcast for you…
Find out how and when the customer experience journey started at Molson Coors plus…
What a company has to gain from placing a strategic focus on CX, plus what they have to lose if they don't

The similarities and differences in how B2B organizations should approach customer experience vs their B2C counterparts

The importance of internal collaboration and how Molson Coors applies a joined-up approach to CX

How Molson Coors' CX journey grew from a small UK based initiative, to a global project across all parts of the business

What it takes to become a CX awards winner

What difference giving a customer a seat at the table has made to Molson Coors…
… and lots more.
Listen to the podcast in full below.