The B2B Insights Podcast Channel was created to help marketing and insights professionals navigate the rapidly-changing world of b2b markets and develop the strategies that will propel their brand to the top.
Subscribe today for your dose of exclusive insights from the b2b market experts.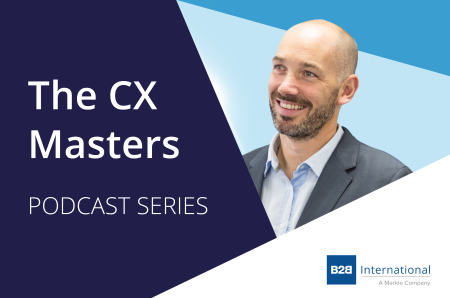 With customer experience (CX) a number 1 priority for most B2B companies heading into 2021, we wanted to learn more from the CX experts in this latest B2B Insights Podcast series: The CX Masters.
Join our Head of Growth and Co-Founder, Nick Hague, as he takes a deep dive each week into the world of CX, to find out how you can create a superior customer experience, and in turn increase customer loyalty and drive greater profitability.
#1: Colin Shaw, Beyond Philosophy
In this first episode we talk to Colin Shaw, Founder & CEO of Beyond Philosophy. Colin has been recognized by LinkedIn as one of the "World's Top 150 Business Influencers" and has been named in the Top 50 Customer Service Experts of the Decade.
#2: Ian Golding, Customer Experience Consultancy
In this second episode we talk to Ian Golding, an internationally renowned speaker and blogger on the subject of customer experience and was one of the inaugural board members of the CXPA (Customer Experience Professionals Association).
#3: Bruce Temkin, Qualtrics XM Institute
In this third episode we talk to Bruce Temkin, Head of the Qualtrics XM Institute. Bruce has been a central figure in the world of CX for over 20 years, from his influential thought leadership at Forrester, through to founding The Temkin Group and co-founding the Customer Experience Professionals Association.
#4: James Dodkins, Rockstar CX
In this fourth episode we talk to James Dodkins, founder of Rockstar CX which provides CX training and internationally renowned keynote speeches. James is a best-selling author and was named by Customer Experience Magazine as the UK's number one CX influencer.
#5: Annette Franz, CX Journey
In this fifth episode we talk to Annette Franz, Founder and CEO of CX Journey. Annette previously served as Chairwoman on the Board of Directors of the Customer Experience Professionals Association and was named one of "The 100 Most Influential Tech Women on Twitter" by Business Insider.
#6: Blake Morgan, Customer Experience Futurist
In this sixth episode we talk to Blake Morgan, a customer experience futurist, author and guest lecturer at Columbia University. Blake's books include "The Customer Of The Future" and "More is More", and she also hosts the "Modern Customer" podcast.