The B2B Insights Podcast Channel was created to help marketing and insights professionals navigate the rapidly-changing world of b2b markets and develop the strategies that will propel their brand to the top.
Subscribe today for your dose of exclusive insights from the b2b market experts.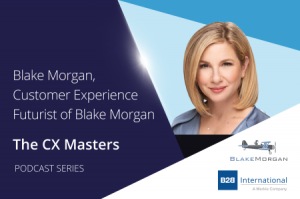 With customer experience (CX) a number 1 priority for most B2B companies heading into 2021, we wanted to learn more from the CX experts in this latest B2B Insights Podcast series: The CX Masters.
Join our Head of Growth and Co-Founder, Nick Hague, as he takes a deep dive each week into the world of CX, to find out how you can create a superior customer experience, and in turn increase customer loyalty and drive greater profitability.
This week Nick is joined by Blake Morgan, a customer experience futurist, author and guest lecturer at Columbia University. Her books have included "The Customer Of The Future", her best seller "More is More", and she is also a contributor to Forbes and the Harvard Business Review.
Blake also hosts her own podcast entitled "Modern Customer", and has a wide range of clients she works with to enhance their customer experience, including Accor Hotels, Accenture, Verizon, Adobe and more. If you're looking for some inspiration as to how you can improve CX in this digital first world, this is the podcast for you!
Key Discussion Points Include:
Blake's journey from literature and art to customer experience specialist

How empathy has increased throughout the pandemic; customers and employees have been prioritized over profits

Examples of B2B companies which are leading the way with a digital first approach as we have pivoted towards the "new normal"

What is "touchless CX" and how are companies using it to deliver a different experience for their customers?

How can companies keep it fresh and innovative when it comes to virtual networking?

CX metrics; which are the best loyalty indicators to use?

How B2B companies can improve their customer experiences…
…Plus lots more! Listen to the podcast in full below.