The B2B Insights Podcast Channel was created to help marketing and insights professionals navigate the rapidly-changing world of b2b markets and develop the strategies that will propel their brand to the top.
Subscribe today for your dose of exclusive insights from the b2b market experts.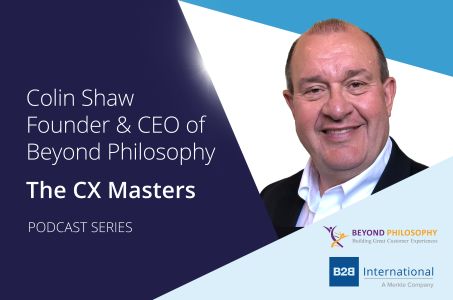 With customer experience (CX) a number 1 priority for most B2B companies heading into 2021, we wanted to learn more from the CX experts in this latest B2B Insights Podcast series: The CX Masters.
Join our Head of Growth and Co-Founder, Nick Hague, as he takes a deep dive each week into the world of CX, to find out how you can create a superior customer experience, and in turn increase customer loyalty and drive greater profitability.
This week, Colin Shaw joins Nick. Colin is the Founder & CEO of Beyond Philosophy. He is recognized by LinkedIn as one of the "World's Top 150 Business Influencers", he's been named in the Top 50 Customer Service Experts of the Decade, and has also been voted in Brand Quarterly's "Top 50 Marketing Thought Leaders' Over 50" for two years in a row. If you want to get into the minds of a true CX expert, this is the podcast episode for you.
Key Takeaways from this podcast:
With CX results stagnating, how can a company justify the increase in CX investment

Why B2B companies struggle in embedding a customer-centric culture to deliver superior customer experiences

Whether NPS continues to be the number 1 metric for customer experience in the B2B world

The importance of emotions in B2B decision making

What the next big CX trend is going to be over the next 10 years
Listen to the podcast in full for all of these key takeaways plus lots more…