The B2B Insights Podcast Channel was created to help marketing and insights professionals navigate the rapidly-changing world of b2b markets and develop the strategies that will propel their brand to the top.
Subscribe today for your dose of exclusive insights from the b2b market experts.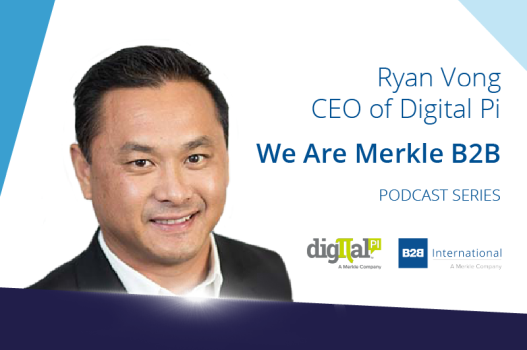 B2B marketing is undergoing a fundamental transformation. Today's business buyers and influencers expect a consumer-like experience. They want it to be personal, relevant, convenient and more valuable than ever before, all delivered at the right time and on the platform and channel of their choice. Their expectations are non-negotiable and for most businesses, this is impossible to meet…. Until now!
On 1st September Merkle B2B was born; a consortium of world-class B2B agencies, purpose built to deliver the world's first fully integrated B2B solution, and we are excited to be a part of it!
We wanted to enable our audience to learn more about this opportunity and what lies ahead for the B2B industry. Join Nick Hague, our Head of Growth, as he discusses the Merkle B2B journey with each of the Merkle B2B business leaders in this exclusive podcast series.
This week Nick is joined by Ryan Vong, Founder and CEO of Digital Pi. Ryan has over twenty years of marketing experience, helping companies transform their digital marketing strategy into execution and results. He is also a pioneer in marketing automation and was one of the first Marketo Champions.
At a time when B2B organizations have had to adapt, and adopt a digital-first approach perhaps quicker than they would have liked, hearing directly from a digital expert who has also created a bombproof culture virtually is not an opportunity you want to miss.
Through this podcast, discover:
Ryan's journey from mathematician to marketer & founding Digital Pi to becoming an expert in his field

How Digital Pi created a bombproof culture despite the fact they have never had office premises and everyone has always worked virtually (even pre-pandemic)

The business challenges that have had to be overcome whilst still achieving rapid growth

The new opportunities Merkle B2B brings to the B2B marketing space
Listen to the full podcast below.