The B2B Insights Podcast was created to help marketing and insights professionals navigate the rapidly-changing world of b2b markets and develop the strategies that will propel their brand to the top.
Subscribe today for your monthly dose of exclusive insights from the b2b market experts.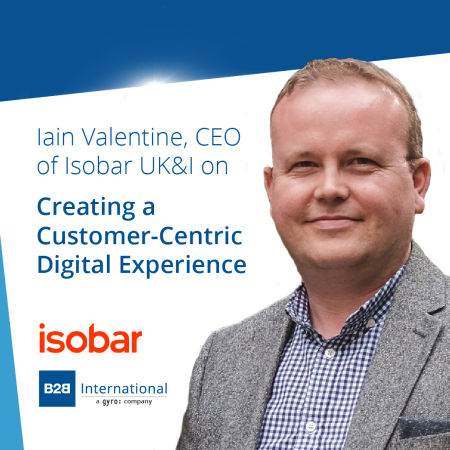 On this week's podcast, I am joined by Iain Valentine, the CEO of Isobar UK&I for an in depth discussion around building a customer centric digital experience.
From our recent COVID Tracker research, we have seen a perhaps unsurprising large shift towards digital transformation with two-thirds of businesses across a very broad range of verticals stating that they are building more digital-centric business models. Whilst B2B organizations have been slower to move and catch up with the B2C sector with regards to delivering a customer centric digital experience, it is clear to see the time is now for B2B brands to step up.
With a wealth of experience in this sector, Iain sheds some light on what trends are being seen today in the B2B world, as well as advice for companies are looking to pivot towards a new digital age but haven't made those tentative first steps yet.
What does the future hold for digital experiences in the B2B space? Listen to the full podcast below.
If you are seeking more in depth insights into the digital future for B2B organizations, download the recording of our recent webinar with B2B International and Isobar where we explored some exclusive research findings and provided suggestions as to how you can create that ideal customer experience.
Recent Webinar | Download The Recording
The Future Is Now – The Importance of Digital Transformation for the B2B World