This post examines an initial cut of data from our new market tracking study – The B2B International COVID-19 Tracker. This new global study will run every week over the next few months to follow business sentiment and activity during these uniquely challenging times. Our tracker addresses small and large companies across North America, Europe and APAC, and gauges opinion from all industry sectors.
This week, our focus is on the disruption that COVID-19 is causing to business supply chains. As my colleague Mark Tuinstra's recent post outlined, the impacts observed globally have been as dramatic as they have been uneven – while some industries cannot keep up with demand quickly enough, others feel the millstone of excess capacity acutely.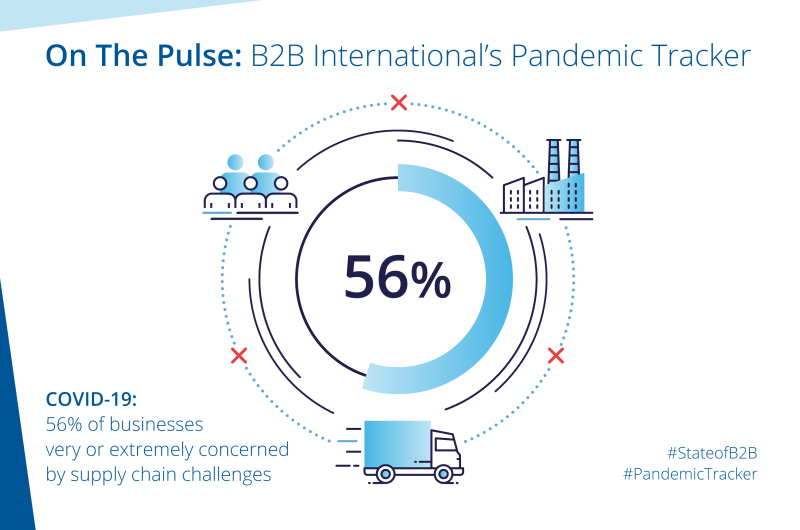 Supply chain issues are almost as problematic to businesses as financial and health challenges
We wanted to use our tracker study as an opportunity to quantify the proportion of organizations that are facing severe challenges with their supply chains, and how this ranks against all the other headaches that businesses are dealing with right now.
We found that even when compared to financial necessities, supply chain issues were the 5th most cited area where businesses were "very" or "extremely" concerned, with 56% of respondents highlighting this: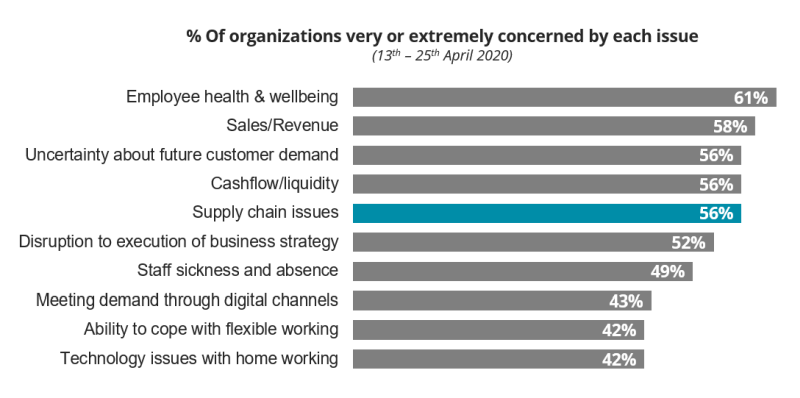 We then progressed to considering the specific supply chain issues that firms have encountered so far. The table below shows that a range of impacts have been felt – The biggest of which has been the impact of travel restrictions on the flow of goods, particularly internationally.
| Specific supply chain issues experienced | % of all organizations surveyed |
| --- | --- |
| Travel restrictions between countries | 19% |
| Deliveries are more complex and fragmented | 19% |
| Increased demand among transport and logistics partners | 17% |
| Domestic production of key supplies disrupted | 16% |
| International production of key supplies disrupted | 15% |
| Increased global demand has created supply shortages | 11% |
| Shortage of warehouse space | 9% |
| Not enough packaging | 6% |
At the same time, there are a range of practical challenges posed – most notably deliveries becoming more complex and fragmented (mentioned by 19% of all firms), and from the intense pressure that has been placed on limited transport and logistics options (cited by 17% of all companies).
With a substantial proportion of global air freight capacity hitherto being provided by passenger planes and with few signs of recovery in leisure and business air travel, capacity shortfalls are expected to become more acute as countries tentatively emerge from lockdown. In our data, APAC appears to be a pinch-point with 30% of firms here citing increased demand for transport as an issue causing concern.
Mid-caps and smaller enterprises feel the greatest supply chain pressure
Our analysis also reveals an unequal impact of supply chain issues across company size lines. Smaller firms – even those in verticals focused on production – appear to have been relatively less impacted.
At the same time, the largest conglomerates seem able to use their scale to their advantage during the crisis. It is for businesses sitting just beneath this (those with between 1,000 and 10,000 employees) where the greatest supply chain pressures are being felt: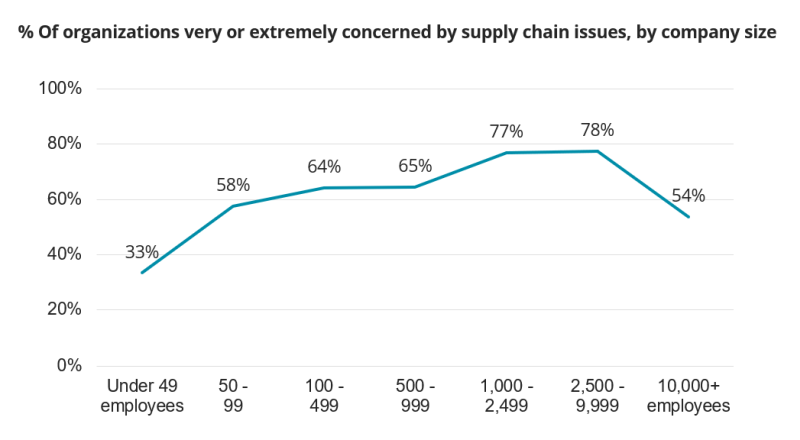 When examining the specific issues driving these spikes by company size, a couple of patterns particularly stand out: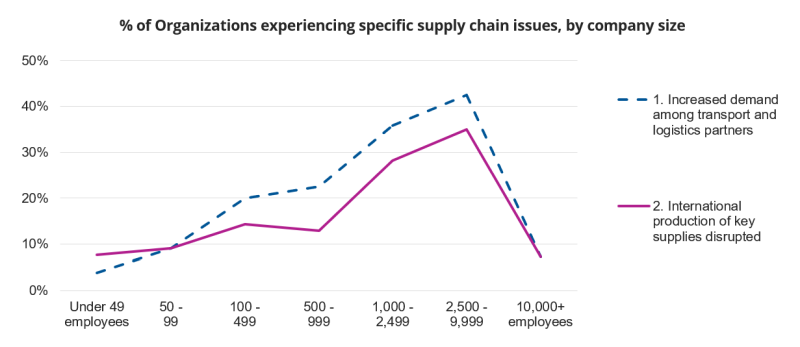 Pressure on the availability of logistics partners: This seems especially acute among mid-sized firms that have substantial transport requirements, but which may lack the clout and influence that the largest retailers and manufacturers possess. By contrast, smaller firms – particularly retailers and producers that tend to deliver locally – appear better able to be flexible and make their own transport arrangements, where needed.

Mid-size firms are highly reliant on global supply chains and are caught out when these value chains are interrupted: Meanwhile, the largest producers and traders appear able to use their financial muscle to power themselves out of availability difficulties – for instance, by securing the local supplies that are available or through bulk buying.
The COVID-19 pandemic's effect upon supply chains is evidently uneven across different profiles of business and policy makers must consider these nuances when formulating effective responses to aid their economies.
Upcoming Webinar | June 16th & 18th
Understanding Market Shifts During the Pandemic and the Implications for Your Business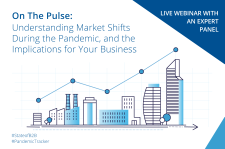 An overdue opportunity to build supply chain resilience
A clear narrative we have seen emerging from the COVID-19 pandemic has been the imperative of firms needing to build their organizational resilience. This is particularly apparent when focusing on supply chains: Across all the businesses we surveyed, 63% agreed that reducing their company's dependency on specific resources or suppliers would be a focus area in the medium term. This rose to three quarters (75% agreeing) among the manufacturers that we polled.
Beyond this spike for producers, however, levels of agreement to the need for more supply chain resilience were consistently high irrespective of company size, country or vertical. Although often seen as an unglamorous operational issue, the success or otherwise of all businesses in countering supply chain challenges will be a leading indicator of when economies are likely to recover. It is something we will keep an eye on as we gather more data from our tracker.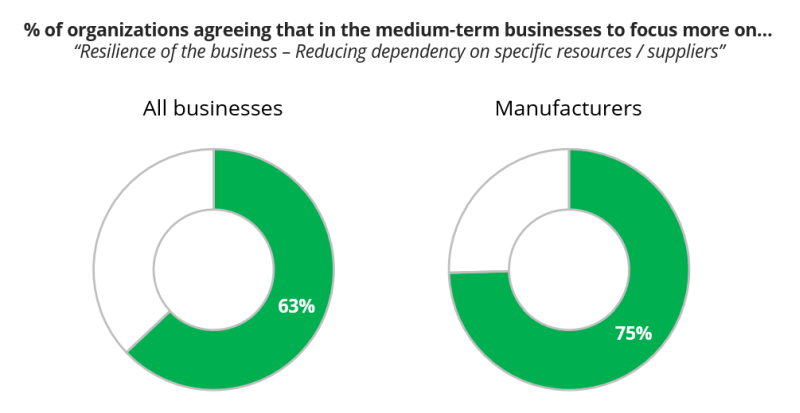 These findings are from the B2B International COVID-19 Tracker. They are derived from n=403 interviews with business professionals in SME and Enterprise firms in the UK, France, Germany, USA, Canada, China, Singapore, Australia and Japan. Fieldwork was conducted from 13th – 25th April 2020.