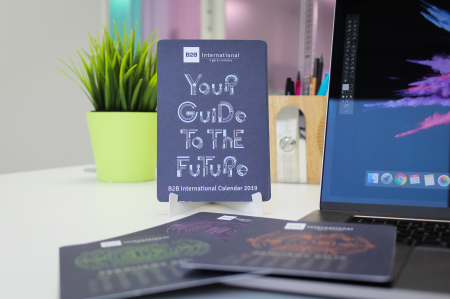 Series Introduction: 'Your Guide to the Future'
Here at B2B International, we're always thinking of the latest innovations and emerging 'megatrends' shaping our clients' industries and markets.
So, for every month in 2019 we decided to delve a little deeper into each of these trends and produce a mini-guide looking at what it is, how big it will be and the opportunity it presents for b2b companies.
Our complete 'Guide to the Future' is also available as a handy desk calendar (see above) – click here for details on how to get your hands on one.
This month's topic is Automation and Robotics. Enjoy!
What is it?
Industrial automation is the control of machinery and processes, through the use of technologies such as software and robotics, to replace or assist humans. The benefits include increased productivity, reduced costs, greater precision and flexibility, and improvements in safety.
How big will it be?
Industries such as automotive manufacturing have been using automation and robotics for some time to carry out basic tasks such as welding, assembly and painting. As the technology has advanced, the applications have widened significantly, and many more industries are now starting to take advantage. With the development of the Internet of Things (IoT) we are on the verge of entering a new era of automation and robotics. As automated systems are becoming increasingly interconnected and agile in their applications, the necessity of human interaction with the automated workflow becomes gradually obsolete.
According to McKinsey research, around 50% of current work activities are technically automatable, and 6 in 10 current occupations have more than 30% of activities that are technically automatable. According to the predictions, the increasing automation of labour will results in millions of people worldwide having to shift their occupations or upgrade their skills.
Research suggests that the following will be most susceptible to further automation:
Activities in manufacturing environments
Predictable and routine physical work (such as fine-equipment installation, food preparation, protective services)
Office support (such as administrative tasks, procurement / payroll processes)
Automation in the following sectors will lead to further employment growth:
Technology / computer engineering
General business and people management
Professional and creative services (such as legal, engineering, business and financial services)
What's the opportunity?
Automation and robotics are expected to play a major role in the workplace of the future. In warehouse logistics, for example, automated robots can navigate large distribution centers and complex floor plans much more quickly, safely and efficiently than humans. Some warehouses are even trialing drones that fly around monitoring inventory levels.
As well as replacing humans, robotics can also be used to assist humans in the workplace. Wearable robots such as exoskeletons are being used in manufacturing assembly lines and the construction industry to reduce the stresses and strains that come with physically-demanding jobs. By strapping into these robotic assistive systems, workers can comfortably operate heavy tools and carry out repetitive motions such as gripping over extended periods of time.
Conclusion
While many fear that the rise of automation and robotics will lead to mass unemployment, the reality is that in many cases, the technology will assist rather than replace humans. As the technology grows in sophistication, it will also lead to new jobs in machinery manufacturing and maintenance. The big challenge for b2b industries is keeping up with the latest innovations and advancements, optimising business and manufacturing processes where necessary, and upskilling employees.