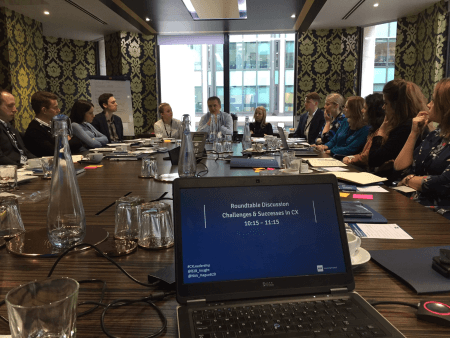 Our 2018 CX Leadership Roundtable was held last week in London. Our biggest CX clients from a wide range of industry sectors came together to share their challenges and successes, and to discuss where CX is heading in the future.
We started the day by sharing 7 key trends in customer experience for 2018:
Using all data more effectively and the merging of CX and UX

Greater personalisation of customer experience

Increased CEO engagement

Tapping into Internet of Things (IOT)

Not just relying on big data but using qualitative research to dig deeper

The rise of Artificial Intelligence for customer service

Rising customer expectations
The last trend highlights an important issue that a number of companies are facing at the moment, as rising CX expectations are leading to slowdowns in CX performance. According to Forrester, 30% of companies will experience further declines in 2018.
With this in mind, discussions moved on to the challenges and successes that our CX clients have faced in their companies.
The biggest challenge is around systems and processes, namely that legacy systems are struggling to keep up-to-date with the digital age. Investment is therefore needed to ensure the digital experience delivers a seamless journey across all channels.
HR was another key challenge for our clients. Too often, sales teams over-promise which leads to higher expectations that are difficult to meet. HR is vital in gaining the support needed to drive behaviour change throughout the company. This also requires the help of the marketing function to communicate company and brand values to every employee and highlight the importance of meeting customer needs.
It was also encouraging to learn that CEO buy-in to the CX cause is more widespread than last year. In fact, while it was mentioned as a challenge at the 2017 event, it is now considered a success among the clients in attendance. This is helping to drive cultural change, even within large businesses.
The afternoon session was dedicated to workshop sessions. The group was split into teams of 3 and tasked with covering one of the following:
How can we bring operational and CX metrics together to prove the ROI?

What techniques and strategies can be used to increase engagement with customer experience in the organisation?

How can you keep your CX programme fresh in the future?
The key insights from the workshops were captured in the visual below:
An important takeaway was that while CX has become central to business strategy as organisations adjust to the experience economy, CX initiatives need to go further than tackling the 'easy wins' of customer experience. Real value will come when companies keep reinventing themselves to not only keep things fresh and exciting but also to deliver meaningful operational change in the medium to long-term.
Don't allow customers' expectations to outpace your ability to evolve or invent experiences. Investing in customer experience isn't a short term win but it can deliver significant long term benefits and profit growth. Too many b2b companies will choose to ignore or postpone making CX transformational changes because they're looking for hard ROI figures. However, this will put them at greater risk of falling behind the competition who choose to put CX at the centre of their business strategy.