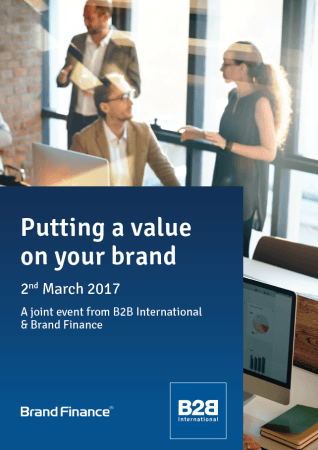 2nd March, London
Every organisation knows that its brand holds a certain amount of value – from the brand associations that differentiate the organisation from the competition, to the brand strength that helps keep the brand top of mind, to the monetary value of the brand as an intangible asset. But how do organisations go about determining the value of their brands, and how can this information be used?
Our "Value Of The B2B Brand" event, a joint event from B2B International and Brand Finance, brings together some of the leading practitioners in the area of brand valuation and brand measurement. Sessions will look at the latest thinking in b2b branding: from the role of emotion in b2b branding, to the importance of b2b branding to an organisation; as well as the latest findings from B2B International's survey of b2b marketers, and the opportunities for b2b brands.
We will also look at how organisations measure the health of their brands, and how businesses can use this information to drive action. The Brand Finance team will then talk us through the importance of putting a financial value on your brand, how this is done in b2b markets, and the benefits this brings to organisations that do this. Plus there will be the opportunity to network with industry peers over lunch once the session have completed.
For more information on the event, check out the brochure here.
Interested in signing up? Email events@b2binternational.com to book your place.