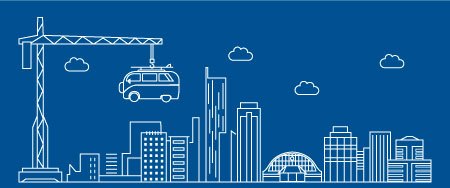 As a creative, a good working environment is very important. Having a space which is visually stimulating allows the creative juices to keep flowing. As we are currently having our main Bramhall office refurbished we thought this was a great opportunity to add some flair to what could otherwise have become a boring white box.
One day while walking home in central Manchester, surrounded by skyscrapers, I did a double take. I saw a flying Volkswagen Campervan. My first thought was what?! I looked again and there was a crane lifting the campervan into what looked like an office, not something you see every day. I know this is Manchester, but still, it was odd. After some research I found out that it was the refurbishment of the Autotrader office, the vehicles were being lifted into their office space to create what I imagine to be a bold, stimulating environment. This inspired me to think about what we are doing with our own office refurbishment.
Okay, I know we're a market research company, we can't have Volkswagen Campervans dotted around the office – we don't have that sort of space. We do have walls though, and keeping them plain and white would be boring. So, how do we make them appealing?
Naturally, we turned to research and went about studying how we can make our staff happier and how we can support people in the roles they play at B2B International. Unsurprisingly, our people are very happy, and so having given this some thought, decided to use the findings to create some visually stimulating artwork for our walls – knowing that everyone has contributed. We don't have a physical product that we sell, we're service based, so what makes us who we are is our people.
So looking forward, watch this space. We've created some quirky, interesting and fun wall graphics, glass wall designs, artwork and inspirational quotes to create a hardworking yet fun and happy office. This doesn't just mean the walls, we will soon boast an updated reception area, executive office with more room for our increasing workforce and a break out area. We're nearing the end of the refurb and can't wait to share what we have created.