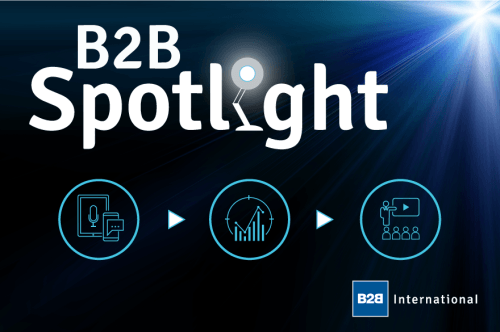 B2B International has introduced a new video platform offering instant video capture and powerful analytics, in order to understand respondents on a much deeper level and bring results to life to help drive action and change.
The new platform, named 'B2B Spotlight', will enhance traditional surveys by allowing respondents to use video to capture responses at any time across any device. The platform's powerful analytics engine brings state-of-the-art transcription technology to the table, meaning videos can be transcribed and key themes and sentiment identified within minutes.
B2B Spotlight promises to significantly enhance voice-of-the-customer studies with responses captured through the platform six times longer and revealing 65% more themes than traditional open end text responses.
In addition, the video responses captured through B2B Spotlight have a much greater impact when the results are presented. Seeing and hearing the opinions and behaviours of their customers means clients can engage with the research on a much deeper emotional level.
B2B Spotlight also gives clients the opportunity to explore the data themselves. The platform allows users to produce edited showreels from any number of responses with just a few clicks of a button. Users can filter responses by demographics such as age and gender, and also by sentiment and specific terms or topics mentioned in the video.
Matt Harrison, CEO of B2B International explains the thinking behind the innovation:
"We have always been advocates of driving action from research using crystal clear reporting, workshops, and infographics. New technology has enabled us to inexpensively include video clips of respondents. There is nothing like seeing and hearing a customer or a potential customer say what they think to drive action. This puts the focus on the voice of the customer which is why we call our innovative platform, 'B2B Spotlight".