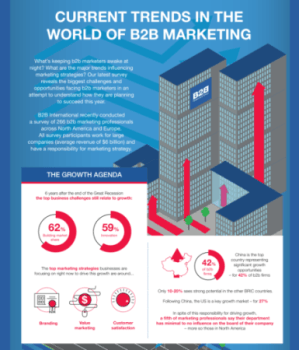 What's keeping b2b marketers awake at night? What are the major trends influencing marketing strategies? Our latest survey reveals the biggest challenges and opportunities facing b2b marketers in an attempt to understand how they are planning to succeed this year.
The survey was conducted among 266 b2b marketing professionals across North America and Europe. All survey participants work for large companies (average revenue of $6 billion) and have a responsibility for marketing strategy.
What marketing strategies are businesses using to drive growth? What can businesses do to outperform the competition? How many businesses consider themselves totally customer centric? We've put the answers to these questions plus many more findings from the B2B marketing survey into a handy infographic for you to view and download.
View the infographic by clicking the link below.