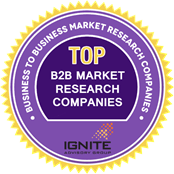 B2B International are delighted to have been included in a list of the top b2b market research firms, as compiled by Ignite Advisory Group. The list recognises firms providing qualitative and quantitative market research services and solutions, within the United States and globally.
Ignite AG acknowledges B2B International's broad research capabilities and comprehensive portfolio of industry sectors served. Specifically, the list focuses on companies offering Voice Of the Customer (VOC) research services to b2b organisations.
To read more about how B2B International can help you understand your market, please click below.