Dive deep into what drives a successful customer-centric business strategy that puts the customer's needs, wants, and communication preferences at the center of the buying process.
Download your copy below of our recent webinar presentation featuring B2B International's President of North America, Julia Doheny; CEO of the Merkle B2B Group, Michael McLaren; and special guest Vice President & Principal Analyst at Forrester Research, Laura Ramos.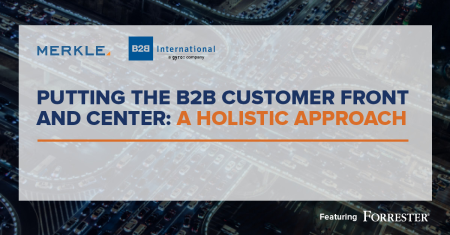 About The Webinar:
We recently conducted a survey of B2B marketing and insights professionals across North America and Europe, and found that five out of their top six overall business challenges currently center around building customer-centricity within an ever increasing complex environment. These findings signal a clear consensus that the industry's overriding imperative is not only maintaining, but also elevating customer-centricity.
The panel also addressed the impact of the pandemic on B2B marketing strategies, and fielded questions from attendees on best practices given the current challenges and priorities for the rest of the year.
What You Will Learn From This Presentation
Key challenges among US and Europe-based B2B marketers and how they plan to address these challenges
The most employed marketing strategies and tactics among B2B marketers
The most useful types of research for B2B marketing executions
How marketers view the economic outlook and what these views mean for their marketing
Download Your Copy Today
Fill out the form for your own copy of the webinar presentation.
Related Content
To learn more about Merkle B2B Group, visit: https://www.merkleinc.com/what-we-do/b2b-marketing-solutions
Watch our recent webinar
Understanding Market Shifts During the Pandemic and the Implications for Your Business