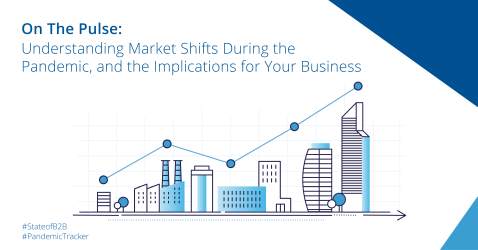 In June we conducted a series of webinars across the world. In attendance was our Head of Research & Analytics, Oliver Truman, who delivered the exclusive findings from our COVID-19 Pandemic Tracker. He was joined by some of our research professionals from across the globe discussing how their own countries and regions have been impacted. I also had the privilege to join each webinar where I was able to summarize the implications of our research, and what it means for B2B brands moving forward.
The research which drove this webinar took place in a number of countries across the world, with the following respondent profile:
Business professionals
All company sizes (SMBs & Enterprise)
Broad range of industry verticals
Weekly fieldwork conducted throughout April and May 2020
Our exclusive research findings discussion during the webinar focused on the following key areas:
The economic impacts of COVID-19
The impacts it has had on a personal level
The practical challenges organizations have faced to date
The second half of the webinar investigated what lies ahead in 2021 and beyond. Find out:
Which industries and regions are likely to recover the fastest
What will change on the business agenda
Which key areas your marketing strategies should be focused on post pandemic
If you wish to ensure you are ahead of the curve in terms of planning for a world beyond COVID-19, empowering you and your organization to make critical business decisions backed by exclusive research findings, then download our live recording and webinar slides today. If you fill out the quick and easy form below, you will gain access to all webinar content from across the three separate webinars: UK & Europe, North America & APAC.