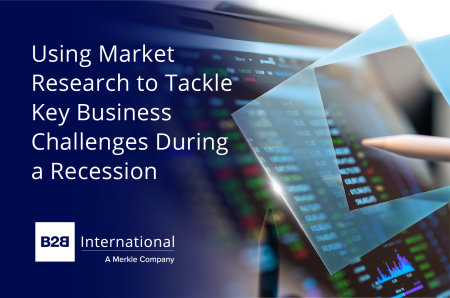 It looks like 2023 will be a year of recession across most major economies, with some predicting it could take as long as 2024 to see recovery. Many businesses will struggle in the year ahead, with painful choices needed to be made. But as history of previous recessions has shown us, businesses that continue to invest in their brand are most likely to see the strongest growth once the economic storm has passed. Insight will play a critical role for businesses looking to navigate the changing environment and to capitalize during the recovery period.
During recessionary times market research will continue to guide companies through key business challenges:
1. Remaining customer-centric
Businesses across industry verticals are likely to face challenges over the next 12-24 months which will disrupt their ways of working; demand may dip, supply chains may become disrupted, the pressure to do more with less may increase. It's vital for B2B companies to get a solid understanding of the changing landscape their customers find themselves in and understand what they can do to be a supportive partner in these times.
The importance of customer centricity was also highlighted in our recent podcast episode with Cisco's Tejal Patel, who said "however much technology moves on, understanding the customer and their needs is going to be the number one thing that every marketer needs to look at." Customer experience (CX) research programs will ensure B2B brands can stay in tune with their customers' evolving needs and expectations, providing the best guidance to shape strategies to deliver superpowered experiences through the recession and beyond.
2. Keeping on top of evolving market opportunities
Recessionary periods often lead to disruption in certain markets, as buyers look for more efficient or agile solutions. The knock-on effect of the recession may also see economic pressures vary across geographies. During this time there will undoubtedly be opportunities for many B2B businesses to capitalize on and some businesses will look to develop revenue streams in new markets to offset the impact of contraction in the economy but identifying and assessing these is not always straightforward. Specialist market opportunities research can clarify the path ahead to support confident go-no-go decisions.
3. Developing compelling products and propositions
While the opportunity for product development or investment in a certain market may be clear, B2B brands will still need to develop a truly compelling offer that resonates with its target audience. In some cases, this will require developing a value proposition for a completely new audience, but in other cases the impact of the recession may have shifted existing customers' needs and expectations and brands will need to adapt their offer to remain attractive to its core base. Continuing to consider what makes you special during these times will be vital for B2B brands to build propositions that will attract and retain customers. Product development and value proposition research will continue to be a go-to for B2B companies looking to keep on top of this during the recession.
4. Building and maintaining a healthy brand
Investing in the brand during a recession is critical to ensure B2B companies are front and center in customers' minds for whenever they are ready to spend, whether that's during or post-recession. Businesses that fail to acknowledge this, see the recession as pure threat, and cut back on all brand building to save costs, face a very real risk of becoming forgotten about once the green shoots of recover appear.
Tracking brand health will remain important during the recession, particularly to keep an eye on how satisfied customers are, whether the brand is being associated with the attributes that matter and how well-known the brand is within the target audience. At the same time, it will be important for B2B companies to ensure they are hitting the right tone during the recession. Brand research can guide businesses to take actions to remain relevant and relatable to customers as their needs and expectations evolve.
5. Building an authoritative reputation in the market
B2B customers will face a swathe of uncertainty and anxiety over the next year. They will be looking for partners who care about these concerns and who can offer new perspectives to help them through this time. Thought leadership will remain a powerful tool for B2B businesses to offer a relatable, authoritative point of view during the recession. Effective use of insight to drive impactful content, will help B2B brands link their understanding of customers' evolving needs with a fresh perspective to keep audiences engaged and informed. We know from our own research that investing in this type of insight activity can go a long way to reinforcing one of the key B2B CX Superpower pillars of 'understanding' – 'a brand that gets my organization's needs'.
At B2B International we remain strong advocates of the power of insight to drive meaningful actions within B2B businesses. During times of great uncertainty, the benefits of such approaches may be needed more than ever. To discuss your business needs and objectives and determine how our research can help, reach out to one of our research experts.