The B2B Insights Podcast Channel was created to help marketing and insights professionals navigate the rapidly-changing world of B2B markets and develop the strategies that will propel their brand to the top.
Subscribe today for your dose of exclusive insights from the B2B market experts.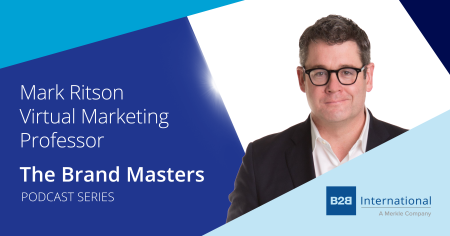 Our latest research showed that building a strong brand position has become one of the top B2B marketing strategies of focus during 2021. Here at B2B International, we help our clients create the ultimate brand experience through thought leadership, brand health tracking and understanding customer expectations (to name just a few).
However, we don't just stop at the research. We wanted to invite some of the B2B Brand Masters onto our B2B Insights Podcast in this latest series, to give you some insights and top tips to help inspire your brand strategy throughout the remainder of 2021 and into 2022 & beyond.
Join our Head of Growth Nick Hague as he takes you on the ultimate B2B branding journey with brand experts from around the world.
To begin this series, Nick is joined by Mark Ritson; a Virtual Marketing Professor with extensive experience in helping individuals and organizations become brand experts themselves. Not only is he currently a brand consultant running an online course on Brand Management, but he is also a former Marketing Professor who taught the MBA program at London Business School and MIT. As if this wasn't enough, Mark also writes a weekly column in Marketing Week, and has worked with some of the largest brands in the world today.
We are thrilled to kick start this series with a true Branding Master. Key discussion points in this podcast episode include:
The role of brand management in B2B Markets at both an organization and a product level
The dangers of proliferating new brands with every product launch
Long term brand building vs short term sales activation
The importance of brand measurements
The power of emotion and purpose in modern B2B branding
Why a powerful brand can be the differentiator in a competitive market
The fundamentals when creating a new brand identity and revitalizing old ones…
… plus lots more.
Listen to the podcast in full below.