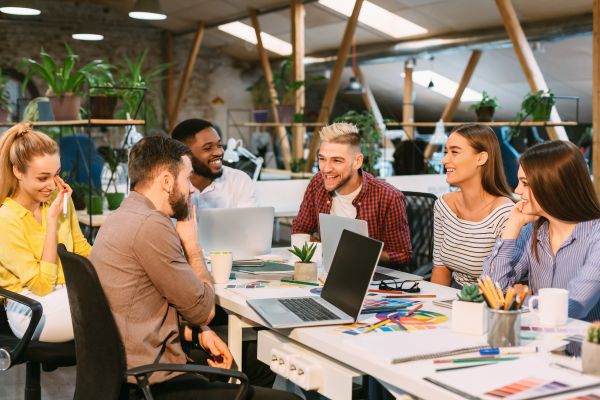 There is no doubting the importance of having a strong brand; one that is well recognized, has a strong story, strong relevance, and as a result features in the purchase consideration set for target buyers. Significant spend on brand development, promotion, tracking and valuation is commonplace for large corporations and has gradually become more and more significant in the medium and small business space, as brands seek to differentiate and maximize the value of their brands in the marketplace.
Over the past decade, as millennials join business purchasing teams, brands have evolved further to make clear their position beyond the products they supply and the heritage they can claim. People have come to value the story of the brand; what it stands for, what its position is, and the degree of responsibility it takes for environment and community, particularly where it has a significant impact on it (e.g. energy, chemicals, food). Never has this been more tested than in current times.
The behavior of companies has been on show through their responses to the COVID pandemic, and this will undoubtedly impact future brand perceptions, not just for customers, but also for employees and future employees too. Reputations could be built and destroyed by actions during this difficult time, and this in turn may impact the image of the brand longer term.
Attention to the Employer Brand
Whilst considerable attention is given to the brand from the perspective of the external stakeholder, the internal stakeholder is often the poor relation with little attention given to the brand as an employer. The brand's potential to become a "pride" brand for existing employees, facilitating engagement and loyalty, and a "pull" brand for future employees creating a sense of attraction and aspiration at the prospect of being a part of the organization, is often overlooked.
Strategic attention to the effectiveness and performance of the brand to increase customer engagement and ultimately purchase power is business as usual. However, thinking about the brand in the context of attracting, engaging and retaining quality staff, less so. Jenni Field, President of the Chartered Institute of Public Relations says…
"People are starting to pay more attention [TO EMPLOYER BRANDING] as they realize they need to focus more on employees after having forgotten about them for years. Its an area that has been around for quite a while now; its not in its infancy but it just hasn't matured".
The links between staff being both on board with the brand and engaged with the organization and strong company performance are well documented, and thus it is surprising that few companies have an active employer brand development and measurement program; one distinct and different to the measurement of satisfaction, typically measuring staff performance and workplace engagement issues, and linked to the external brand measurement program.
Time to Act?
A significant proportion of large organizations are currently unable to carry out usual business activities, with operations suspended under government direction, staff working at home, on short time, furloughed or state supported. This might, therefore, be an opportune time to look inwards at the perception of the brand as an employer.
A deeper understanding of the brand as an employer rather than as a provider of products and services will enable the organization to look at its branding strategy in line with its internal communications strategy, including how brand messaging is incorporated into everything it does around the organization, particularly in staff recruitment, development and training, staff empowerment and how it celebrates staff achievements.
Consulting with Current and Potential Employees
When listening to people speaking about their job and their employer, what impresses most is when the person themselves is impressed by their own employer; when they express a passion not only for the job but for the employer, and convey pride in being an employee of that brand. This is very powerful when it leaves you wishing you worked in the same organization.
So, when seeking opinions of employees, rather than focusing only on performance on brand attributes and associations, we need to understand just what it is they would and do say when asked about their employer brand. This is expressed on 4 levels; the functional, the behavioral, the emotional and passion.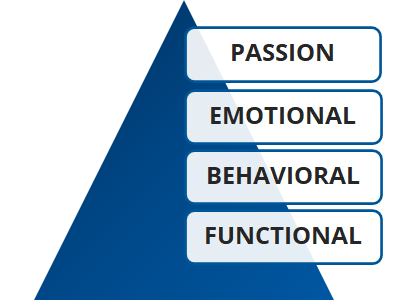 The more positive the comments towards the top of the triangle, the stronger the employer brand. Equally, negative comments here indicate a poor employer brand.
The restriction of comments to the lower part of the triangle, the more likely the employer is to have a weaker or indifferent brand.
The different levels relate to responses around the levels of experience with the brand. the chart below gives some indications of the questions that might be answered in each of the categories.
Level
Questions
Answers to…
Functional
What does your company do?
What is it about?
FUNCTION
Behavioral
What do you do?
How do you work?
What is your contribution?
EXPECTATION
Emotional
What does it feel like to work for BRAND X?
How are you valued?
EXPERIENCE
Passion
What do you love about working for BRAND X?
What would you miss if you left?
ESTEEM
Making A Start…
The breadth of the consultation needs to be considered.; who to include – current employees, new employees, recently retired and resigned employees, job applicants. Most companies will start with existing employees, not least for the ease of access.
There is equally, no shortage of methodologies that can be used to speak with existing staff; digital media leading the way as social distancing measures restrict direct access to utilize other face to face methods such as focus groups and individual interviews. Workshops can be conducted online with good results. Online surveys, online focus groups and chat platforms are commonplace and very accessible, particularly with home-based staff.
Whichever methods are used, consideration needs to be given to the freedom of the respondents to safely and anonymously give open and honest responses, particularly where qualitative small-scale methods are employed. For this reason, external independent research companies may be commissioned to carry out the consultation.
Realizing The Benefit in a Post COVID Business World
A positive employer brand is critical to organizations when wishing to attract the most talented and able staff. Post COVID, staff recruitment may not be top of the agenda, but the key benefit of a positive employer brand will be its ability to engage and empower staff to drive the organization forwards and respond to the challenges the COVID pandemic has brought to businesses re-grouping in a different business world.
This current time affords an opportunity for organizations to better understand the brand experience of employees, and ensure it is aligned with the experiences of customers. Without this congruence, delivery of a compelling and positive customer brand experience is always going to be challenged.
Readers of this article also viewed: