Customer loyalty research has shown that most companies lose 45% to 50% of their customers every five years, and winning new customers can be up to 20 times more expensive than retaining existing customers. Moreover, just a 5% reduction in the customer defection rate can increase profits by 25% to 85%, depending on the industry.
Given the above claims, it is imperative that you know what makes buyers and specifiers choose one supplier rather than another. On your behalf we need to ask the right questions and devise techniques to obtain the right answers.
Why is customer satisfaction research important?
Our Customer Satisfaction Research is designed to help you win and maintain customers for life. After all, satisfaction usually leads to a customer returning and buying more. Repeat, loyal customers tell other people about their experiences, and they may well pay a premium for the privilege of doing business with a supplier they trust.
Whilst the purpose of customer satisfaction research is to improve customer satisfaction and loyalty, so often B2B customer surveys sit collecting dust. Worse than that, customers have generously given their time to assist in the survey believing that some positive action will take place. Their expectations will have been raised. The process of collecting the data can seem easier than taking action to improve satisfaction levels.
Our experience
A third of all research carried out at B2B International is customer loyalty research. Over the years we have conducted hundreds of customer loyalty surveys leading to a Customer Satisfaction Index (CSI) portfolio. This enables comparisons with other industries to be made, and proves useful in customer benchmarking our clients for improvement in the future.
Video: Customer Loyalty Research
The solution to improving the customer experience and creating loyal customers is not complicated but change doesn't happen overnight. B2B International can work with your company at various steps of the process to deliver improvements along the customer journey touchpoints.
There are various steps to creating customer advocacy. The first step in our programme is to map the customer touchpoints in the journey followed by identifying the optimum customer journey, researching how you deliver against customer expectations, and assessing any perception gaps between your service delivery and customer feedback. The final step is to assess what customer needs are and how the desired customer experience needs to be developed for the future benefit of your company and customers alike.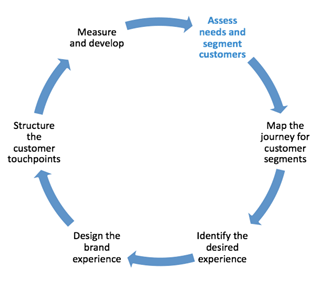 The Customer Experience Strategy
Embedding customer satisfaction within any company should be a priority as the payback is massive. However, remember 3 things:
It is hard work.

Buy in to any customer satisfaction programme needs to come from the top. It is vital that the CEO approves the strategy and communicates this throughout the organisation.

It is a never ending cycle to ensure that feedback is continuous and controls are in place to make sure your desired customer advocacy levels are achieved.
Customer loyalty surveys can also be a useful complement to brand research, in that desired corporate positioning can act as a catalyst for customer service excellence.
Video: How to deliver on customer experience
Net Promoter Score
Net Promoter Score (NPS) is an alternative measure of customer satisfaction and loyalty, and is used to determine how likely your customers are to recommend and promote your company. A high NPS score (above 40) may therefore suggest higher growth potential in the future, and can be an effective measure of future success.
NPS research is a quantitative method and is usually collected via telephone or online interviews. Customers are asked, on a scale of 0 to 10, how likely they are to recommend the company to others. To calculate the NPS score, the percentage of people giving a score of 6 or below is subtracted from the percentage of people who gave a score of 9 or 10. The final NPS score is represented as a percentage, with 100% suggesting everyone is a promoter and -100% suggesting everyone is a detractor. Typically, a net promoter score of around 25 is considered the norm for b2b companies.
Further reading: How can I improve my NPS?
Further reading: What is Employee NPS?
Benchmarking Net Promoter Scores
Metrics are not particularly useful when analysed in isolation. For example, an NPS of 30 – while strong – is relatively poor if competing brands achieve scores around 50.
Whether it is benchmarking an NPS against competitors, different business units or across different countries and regions, benchmarks put a brand's performance into perspective.
B2B International has the largest databank of NPS data from which to benchmark brand performance – within and across industries, and internationally. For example, we know that a score over 40 would be very strong in the construction industry, whilst a score over 20 would be very strong in the energy industry. For a company operating in the UK, a score of over 30 would be very strong, whilst in France a score of over 20 would be market leading.
Further reading: What is a good NPS score?
Drivers analysis – understanding what drives customer loyalty
Drivers analysis is used to examine the relationship between detailed satisfaction scores with a supplier or brand and overall loyalty scores. Through the use of correlation or regression analysis, a strength of relationship (i.e. a correlation / regression coefficient) can be computed between the supplier/brand attributes and overall loyalty. The higher the coefficient score, the stronger the effect an attribute has on loyalty.
Video: How to deliver customer excellence in the future
B2B Customer Experience: A practical guide to delivering exceptional CX
Written by Nick Hague and Paul Hague, B2B Customer Experience is the essential guide to delivering an efficient b2b customer experience (CX). It provides clear advice on how to plan, map, structure, implement and control an effective customer experience.
The book takes key CX principles from the B2C world and remodels them for B2B. Examining leading B2C organisations, such as Zappos, Nordstrom and John Lewis, Nick and Paul outline techniques for creating successful B2B customer experiences, how to build on the strengths of a business and how to engage sales teams with the customer experience programme.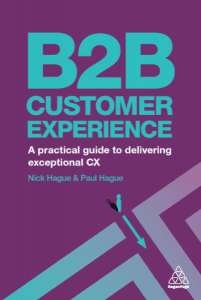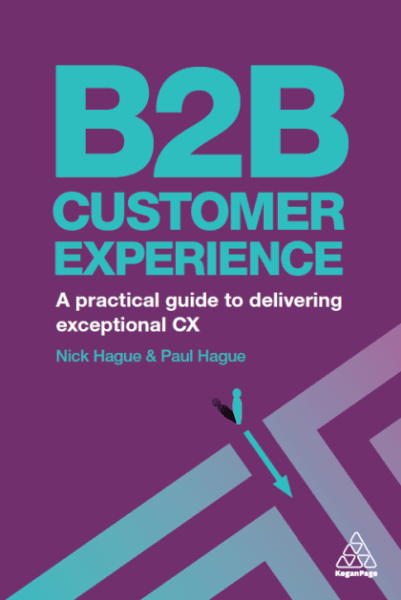 Case study: Insights into corporate customers
Business challenge
Our client, an energy company, needed to understand the views of corporate customers on all energy suppliers.
What we did
Energy buyers are likely to be aware of all the different energy companies and so the benchmarking metrics we focused on were the factors that could influence the choice of supplier. As expected, while price was one of these metrics, our survey showed that other factors played an important role, such as "interest in doing business" and "communications of all kinds".