The B2B Insights Podcast Channel was created to help marketing and insights professionals navigate the rapidly-changing world of b2b markets and develop the strategies that will propel their brand to the top.
Subscribe today for your dose of exclusive insights from the b2b market experts.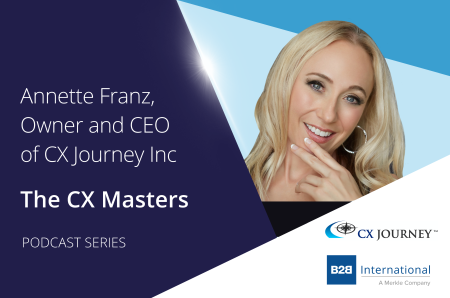 With customer experience (CX) a number 1 priority for most B2B companies heading into 2021, we wanted to learn more from the CX experts in this latest B2B Insights Podcast series: The CX Masters.
Join our Head of Growth and Co-Founder, Nick Hague, as he takes a deep dive each week into the world of CX, to find out how you can create a superior customer experience, and in turn increase customer loyalty and drive greater profitability.
This week Nick is joined by Annette Franz, the Founder and CEO of CX Journey. Annette previously served as Chairwoman on the Board of Directors of the Customer Experience Professionals Association, was named one of "The 100 Most Influential Tech Women on Twitter" by Business Insider and is the author of Customer Understanding. With 25 years of experience, Annette knows more than anyone else what it takes for companies to empathize and understand their employees and customers…
Key Takeaways From This Podcast:
What the catalyst was for Annette to start her own company; CX Journey

Annette's "6 step" process around journey mapping

What the main failings of companies looking to map their customer journeys are

How people should approach building in "pre" and "post mortems" into their CX planning

Annette's best piece of advice for someone looking to carry out their own customer journey mapping workshop

What makes a great CX leader

How customer journey mapping will evolve in the future…
…Plus lots more! Listen to the podcast in full below.