The B2B Insights Podcast Channel was created to help marketing and insights professionals navigate the rapidly-changing world of b2b markets and develop the strategies that will propel their brand to the top.
Subscribe today for your dose of exclusive insights from the b2b market experts.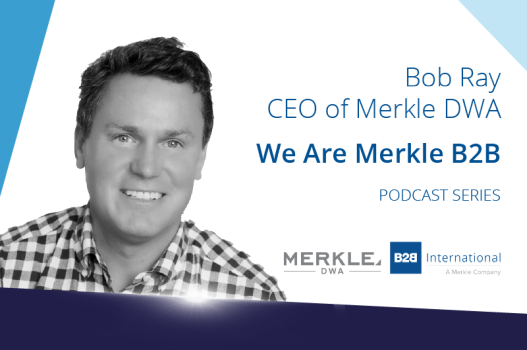 B2B marketing is undergoing a fundamental transformation. Today's business buyers and influencers expect a consumer-like experience. They want it to be personal, relevant, convenient and more valuable than ever before, all delivered at the right time and on the platform and channel of their choice. Their expectations are non-negotiable and for most businesses, this is impossible to meet…. Until now!
On 1st September Merkle B2B was born; a consortium of world-class B2B agencies, purpose built to deliver the world's first fully integrated B2B solution, and we are excited to be a part of it!
We wanted to enable our audience to learn more about this opportunity and what lies ahead for the B2B industry. Join Nick Hague, our Head of Growth, as he discusses the Merkle B2B journey with each of the Merkle B2B business leaders in this exclusive podcast series.
This week Nick is joined by Bob Ray, CEO of Merkle DWA. Bob has had a great career to date, with vast experience in the marketing world. He started working as a client-side marketer for Fortune 500 tech companies, before moving to another Merkle B2B brand, gyro, where he led them for 8 years. He then joined DWA in 2012 as President of Americas, before he took the reigns as Global CEO in 2016. That is where the meteoric rise of DWA happened before joining forces with Merkle in 2017. With such a wealth of experience in the market, it made for an insightful discussion.
Through listening to this podcast, discover:
DWA's transition from a traditional media company, to one which embraced digital very early on and therefore took the first mover advantage and saw exponential growth
How embracing digital can open a world of opportunity for B2B brands
Suggestions for CMOs looking for agency support with their marketing attribution, whilst delivering a transparent ROI on their marketing spend
How Merkle B2B can benefit B2B organizations in the future
… plus lots more.
Listen to the full podcast below.