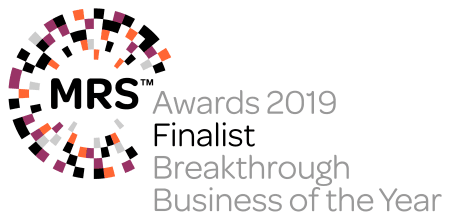 We're delighted to announce that B2B International has been selected as a finalist at the MRS Awards 2019 in the 'Breakthrough Business of the Year' category.
The MRS Awards have been created to recognise the effectiveness of research and insight and reward those agencies which are delivering business excellence.
2018 was certainly a breakthrough year for B2B International. Firstly, we celebrated our 20th anniversary, having been founded by Paul Hague and Nick Hague back in 1998. Secondly, 2018 was our 20th consecutive year of growth (reaching £12m in turnover). Lastly, 2018 was the year that B2B International became part of the gyro family, following the acquisition by Dentsu Aegis Network (DAN).
"As the world's largest specialist b2b agency, we have always sought to grow our business and our clients' businesses through world-class b2b research and continued innovation", said Matthew Powell, Director of London, B2B International. "Our mission is to help the world's largest b2b companies challenge the status quo, using skilfully collected evidence, to empower organisations to reach their full potential. Our new offering allows us to pour rocket fuel on our ambitions – through new solutions for our clients, and through faster-than-before international expansion, to serve more b2b companies across the Globe."
Since the acquisition, B2B International have either opened new offices or expanded existing ones in Chicago, Boston, Singapore and Edinburgh. Our on-going innovation with gyro and wider DAN agencies has also allowed us to develop new and unique project designs for our clients.
As well as being recognised in the MRS Awards, we've also been recognised by Confirmit with an AIR award for best agency, and two project and innovation awards for our unique approach to b2b win / loss research and our insights on the role that emotions play in b2b decision-making.
Nick Hague, Head of Growth at B2B International, said:
"One thing that has been fundamental to our growth is our staff – driven by our recruitment and training policy. On the whole, we recruit graduates, train them, and coach them all the way up to leadership positions within the company. It is something that we are incredibly proud of, and something we feel is a real point of difference for us."
The winners will be revealed at the MRS Awards Dinner in December. To find out more about the Awards, click here.