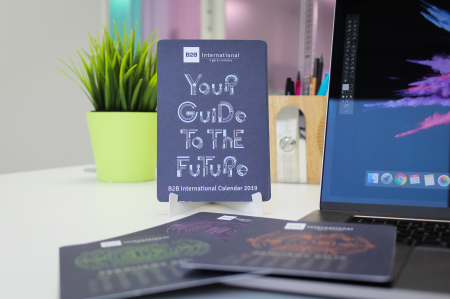 Series Introduction: 'Your Guide to the Future'
Here at B2B International, we're always thinking of the latest innovations and emerging 'megatrends' shaping our clients' industries and markets.
So, for every month in 2019 we decided to delve a little deeper into each of these trends and produce a mini-guide looking at what it is, how big it will be and the opportunity it presents for b2b companies.
Our complete 'Guide to the Future' is also available as a handy desk calendar (see above) – click here for details on how to get your hands on one.
This month's topic is smart cities. Enjoy!
What is it?
Smart cities are urban areas that use information and communication technologies to increase operational efficiency, optimise the use of limited resources, share information with the public and improve the quality of public services and citizen welfare.
How big will it be?
By the year 2050, over half the world's population will be living in cities (Source: IEC). This rapid urbanisation creates the need for smarter living as it becomes more difficult to supply these growing populations with resources such as safe food, clean water and sufficient energy.
Urbanisation is prominent in Asia where 17 of the world's 31 megacities are located, but equally as critical in Europe, where municipalities are striving towards meeting the climate goals.
What's the opportunity?
Examples of the many current and likely future disruptive innovations are:
Internet of things (IoT): This technology is key to the development of smart cities, as it enables a more connected and efficient infrastructure, such as smart energy meters in residential and commercial buildings, smart streetlights which automatically brighten with people in the area, parking sensors that indicate the nearest available parking spots, etc.
The IoT also has the potential to help with traffic management. Cities are well-known for traffic congestion and as populations grow, the problem will no doubt escalate. Smart city devices, connected by technologies such as the IoT and 5G networks, will be able to monitor traffic flow levels and respond accordingly by adjusting traffic light sequences and lane prioritisation.
5G wireless technologies: 5G advancements – already underway in various locations around the world – are expected to accelerate smart city benefits due to the powerful combination of improved connectivity speed, responsiveness and reach in locations previously unprecedented.
Robotics: Automation is a growing trend behind smart city implementation and improvements. Combined with IoT, robots are being explored and trialled for automating the likes of city waste management, as well as addressing infrastructure problems such as potholes, leaking water pipes, faulty street lights, etc.
Conclusion
The need for smart cities will become much greater in the coming years as a way of addressing the challenges that come with growing urbanisation.
Larger populations bring specific issues that smart cities will need to overcome, such as traffic management, waste management and healthcare management.
All this will put greater strain on energy use, and therefore smart cities will also need to make full use of smart energy grids which automatically monitor and optimise city-wide energy consumption to ensure a steady and efficient distribution of power.
The development of smart cities will also greatly increase demand for new technologies across a wide range of industries, presenting a massive opportunity for b2b technology and manufacturing brands to capitalise and win more business.